Ekrem GUNER

Dear Colleagues, I am honored to share with you the second issue of the Grand Journal of Urology (Grand J Urol) with the contributions of valuable researchers and scientists. The journal is an open access, peer-reviewed journal and is published online in English three times a year (January, May and September). The Grand Journal of Urology (GJU) brings written and visual scientific urology studies to academic platforms and makes significant contributions to the science of urology. In addition, GJU adds a new momentum to academic activities with its unique style. After the first issue of our journal, valuable academicians from Autria, Germany, France, Italy and China joined the article review and advisory boards. In the meantime, I would proudly like to state that our journal has started to be indexed in the SCILIT database (an open-access scholarly database, Basel, Switzerland) and ScienceGate. In this second issue of our journal, there are many valuable articles under the subheadings of Genitourinary Radiology, Urological Oncology, General Urology, Andrology and Pediatric Urology. I hope these articles will provide important contributions to our dear readers and researchers. On this occasion, I would like to express my heartfelt gratitude to our authors who have contributed to our journal with their articles, to our reviewers who have meticulously evaluate the articles, to our designers and to our publisher. Respectfully yours May 2021 Assoc. Prof. Ekrem GUNER, MD Editor-in-Chief
Mustafa Orhan Nalbant, Omer Yildiz, Elif Hocaoglu, et al.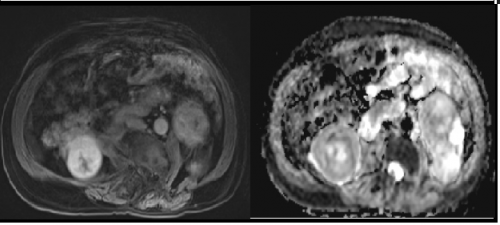 A 67-year-old male patient who had multiple solid masses in both kidneys in another center ultrasound examination was referred to our clinic for further examination. He had no known chronic or syndromic disease. The patient was evaluated with dynamic contrast enhanced upper abdominal magnetic resonance imaging (MRI). In MRI, homogeneous enhancing solid lesions with hypointense central stellate scar and non-enhancing cysts was seen in both kidneys. Diffusion restriction was observed in the periphery of the solid lesion in the lower pole of right kidney which was considered suspicious for malignancy and biopsy was performed from this lesion (Figure 1). Pathology result reported as oncocytoma so follow-up decision was made for the patient. In the follow-up, the masses in the left kidney increased in size and diffusion restriction developed in the upper pole of the left kidney (Figure 2). This lesion was also biopsied because of suspect imaging finding, the result was reported as oncocytoma as well. At the same time, the patient was evaluated for tuberous sclerosis and Birt-Hogg-Dube syndrome as they associated with multiple bilateral oncocytomas. There was no similar signs, semptoms and imaging findings related to these genetic syndromes in the family members of the patient. Informed written consent was obtained from the patient for this report. Figure 1: A-Homogeneous enhancing, B- Multipl solid lesions with hypointense central stellate scar and non-enhancing cysts in both kidneys, C- Diffusion restriction was observed in the periphery of the solid lesion in the lower pole of right kidney (Coronal and axial view of enhanced abdominal MRI) Figure 2: A- Although having homogeneous enhancement with hypointense central stellate scar, B- Solid lesions in the left kidney increased in size, C- Peripheral diffusion restriction developed in the upper pole of the left kidney on follow-up MRI (Coronal and axial view of enhanced abdominal MRI) Renal oncocytoma is a benign renal tumor and up to three-quarters of patients with a renal oncocytoma are asymptomatic []. So its diagnosis is incidental on abdominal imaging. Possible signs and symptoms of a renal oncocytoma include hematuria, flank pain and an abdominal mass []. Both oncocytomas and renal tumors show similar enhancement but the central scar and the inversion pattern of enhancement have been associated with oncocytomas []. The "central stellate scar" sign refers to a central zone of fibrous connective tissue, with the bands of fibrosis radiating toward the periphery of the lesion is a characteristic radiological finding described of renal oncocytoma []. Central scar cannot be distinguished on imaging from the necrosis commonly found in renal cell carcinoma []. The underlying cause of most isolated renal oncocytomas is unknown; however, multiple oncocytomas can occur in people with certain genetic syndromes such as tuberous sclerosis and Birt-Hogg-Dube syndrome. Isolated oncocytomas usually seen as a single tumor affecting one kidney, on the other hand renal oncocytomas that are part of a genetic syndrome often affects both kidneys with multipl tumors [,]. Renal oncocytomas which are part of a genetic syndrome are associated with mutations. Birt-Hogg-Dube syndrome is caused by mutations in FLCN gene while tuberous sclerosisis caused by mutations in the TSC1 or TSC2 genes []. It can be hard to distinguish oncocytoma from renal cell carcinoma with only imaging studies. Biopsy is often needed to confirm the diagnosis []. Most patients are treated with surgery to confirm the diagnosis since the distinction between oncocytoma and renal cell carcinoma can not be made with imaging methods alone. Whether oncocytoma is strongly considered, partial nephrectomy can be done as a more conservative method []. Ethics Committee Approval: N/A. Informed Consent: An informed consent was obtained from the patient. Publication: The results of the study were not published in ful lor in part in form of abstracts. Peer-review: Externally peer-reviewed. Conflict of Interest: The authors declare that they have no conflict of interests. Financial Disclosure: The authors declare that this study received no financial support.
Sebnem Izmir Guner, Mustafa Teoman Yanmaz, Ekrem Guner, et al.
The BK virus (BKV), a human polyomavirus, is a small double helix DNA virus belonging to the Papovaviridae family. It is commonly found in societies and forms a latent infection. However, it can lead to serious clinical findings in patients with immunosuppression such as patients who had undergone bone marrow or solid organ transplantation or patients with cancer []. Hemorrhagic cystitis (HS) is seen as a frequent complication of bone marrow transplantation. This condition occurs depending on the conditioning regimen of bone marrow transplantation. Hematuria, dysuria, pollakiuria, and suprapubic pain are the most common findings and symptoms of its clinical presentation. Its emergence is not only limited to cases where bone marrow transplantation is performed. It can also occur during the treatment of some other neoplastic diseases where cyclophosphamide (CY) or ifosfamide is used. Hematuria occurs two weeks after the administration of bone marrow transplantation preparatory regimens where cyclophosphamide (CY) or ifosfamide is used. In contrast, hemorrhagic cystitis has also been reported to occur immediately or in the long term, three months after the administration of cyclophosphamide. Hemorrhagic cystitis (HS) is defined in two groups as early- or late-onset HS, taking into consideration the differences in the etiologies. Early-onset hemorrhagic cystitis is more commonly associated with chemoradiotherapy used in conditioning regimens of bone marrow transplantation. Late-onset hemorrhagic cystitis occurs weeks or months after the transplantation. Multiple factors are accused in the etiology. A previously emerged HS is considered a risk factor in itself for this type of HS. In addition, viruses and Graft-Versus-Host Disease (GVHD) are also accused in the etiology. The major accused viruses are BK virus (BKV), adenovirus and cytomegalovirus [–] The BK virus, which remains latent in renal and uroepithelial cells after primary infection, reactivates after transplantation in which immunosuppressive agents are used and the cellular immunity is weakened []. The most common pathology caused by the reactivation of BKV is HS, and supportive therapies such as hyperhydration, alkalinization, and bladder irrigation are usually applied in the treatment. Cidofovir (CDV) which is an acyclic nucleoside phosphonate in antiviral drugs used in the treatment against polyomaviruses has been reported as an agent with confirmed efficiency [–] 19 of 71. Cidofovir, a nucleotide analog, exerts its effect by inhibiting viral DNA polymerase and preventing chain elongation. Unlike nucleoside analogs, it contains a phosphatase group. Cidofovir (CDV) is given to patients infected with BKV at a dose of 5 mg/kg per week during the first 2 weeks. After that, the treatment is repeated every 2 weeks. Its most important side effect is renal failure manifested by proteinuria, which can be prevented by using probenecid [–]. Renal failure is the main toxicity of CDV, and therefore serum creatinine and urine protein levels should be measured before each CDV application. To reduce its side effect, CDV should be used with oral probenecid and intravenous physiological saline solution [–]. In this case report, the management of acute proximal tubular damage due to the use of cidofovir in hemorrhagic cystitis caused by BK virus in a patient with T-lymphoblastic lymphoma in remission, in whom allogeneic stem cell transplantation was performed, was presented.
Oguzhan Yusuf Sonmez, Mehmet Sevim, Halil Ibrahim Ivelik, et al.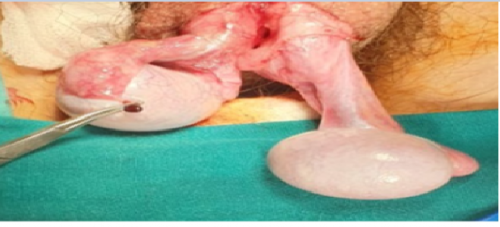 Testicular torsion (TT) is one of the urological surgical emergencies. Failure to receive adequate treatment in time may result in the loss of the testicle. TT is divided into extravaginal and intravaginal torsions. Extravaginal torsion is frequently seen in prenatal period and newborn infants [,]. It may present with a firm and a non-transilluminating bluish scrotal mass. color doppler ultrasonography (CDUS) usually does not show signs of vascular torsion. Detorsion cannot be applied manually. It is generally not possible to achieve detorsion surgically which usually requires orchiectomy. Although orchiopexy can be performed on the contralateral testicle during orchiectomy the evidence-based logic of this practice is controversial. Intravaginal torsion; is most common between the ages of 12-18 years. Its sudden onset clinic is usually accompanied by moderate or severe scrotal pain which must be treated urgently. In suspicious cases, clinical examination is performed with or without anesthetic block and scrotal palpation should be tried to see whether the lower pole of the epididymis is separated from the lower pole of the testicle. In doubtful cases, testicular blood flow should be evaluated by CDUS. Scrotal exploration should not be delayed in the presence of clinical uncertainty. Torsion of the appendix testis and appendix epididymis occurs in adolescents due to their small pedicles as they turn around more easily. It is generally observed in the patient group above the age of 16. The clinical picture is in the form of a palpable painful mass in or on the testicle. In the torsion of appendix testis, a blue dot sign can be observed on the scrotum skin []. Scrotal exploration should be performed, if the torsion of the spermatic cord is suspected.
Kadir Karkin, Hakan Ercil, Umut Unal, et al.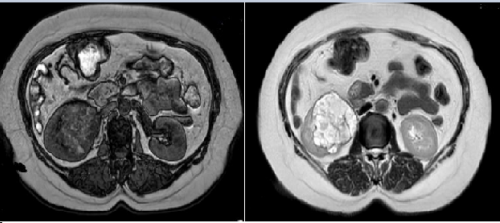 Novel coronavirus of 2019"s (2019-nCoV) infection has rapidly spread to China and many other countries since it was first emerged in Wuhan Province of China in December 2019 [] and it has become a major global health issue. The virus was named 2019-nCoV first temporarily by the International Virus Taxonomy Committee but then it was renamed as severe acute respiratory syndrome coronavirus-2 (SARS-CoV-2) []. Hyperinflammation and immunosuppression are the two most important entities in COVID-19 disease []. Fever, cough, shortness of breath, myalgia, headache and diarrhoea are the most common symptoms. The most common underlying diseases are reported as cardiovascular diseases, hypertension, and diabetes mellitus []. Renal cell carcinoma (RCC) is one of the deadliest urological tumors, accounting for 2-3% of all adult malignancies []. RCC is the one of the risk factors which pose a higher risk for Covid-19 infection followed by age >60, arterial hypertension, diabetes, obesity and smoking []. Therefore, many patients who were diagnosed with RCC during this pandemic period are at risk of developing this viral infection and its life-threatening complications if they were treated surgically []. In newly diagnosed cases with cancer, moreover, Covid-19 affects the decision of both the patient and the surgeon as it is a high contagious disease and the cancer surgeries are delayed due to limited healthcare applications and resources [,]. In this particular case, we aimed to present the transition of the disease from the localized stage to distant spread stage cancer as the patient who was pre-diagnosed with RCC and who was recommended surgery did not want to undergo surgery due to the Covid-19 pandemic and the risks it brought.
Yusuf Kasap, Emre Uzun, Bugra Bilge Keseroglu, et al.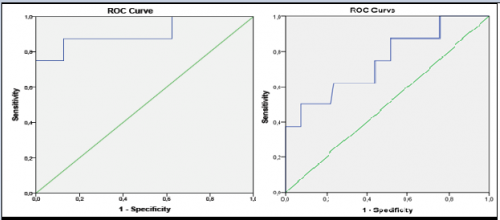 Prostate carcinoma (PCa) is one of the significant health issues in the male population. In Europe, 2.6 million people are diagnosed as cancer every year, and PCa accounts for 11% of all male cancers. Its incidence has increased rapidly after 1970 with the help of practical and accessible screening methods []. In carcinogenesis, inflammation, genetic, and multiple growth factors play an important role. Insulin is essential for both energy metabolism and glucose regulation. Also, it may have a role in PCa development because of its potent mitogenic and growth factor-like effects []. Insulin has a suppressive effect on insulin-like growth factor binding protein (IGFBP-1) secretion. Moreover, according to this relation, IGFBP-1 levels might be an essential factor for insulin activity on the target tissue []. Besides the effect of insulin on tissues, IGFBP-1 binds to insulin-like growth factor (IGF-1) with high affinity and decreases its level and effect []. In epidemiologic studies, low-risk PCas, are mostly related to high IGF-1 plasma levels. However, it is not definite whether IGF-1 and insulin interrelation causes PCa development or not []. Positive surgical margin (PSM) detected in pathology specimens after radical prostatectomy (RP) was accepted as a poor prognostic factor and has been reported as 10% in articles about RP. Both pathologic and biochemical findings have been investigated for estimation of biochemical recurrence in noninvasive cases after RP. According to recent studies, total tumor volumes and maximum tumor diameters are not enough to predict biochemical recurrence []. In this study, we aimed to find the contribution of IGF-1 levels in predicting biochemical relapse of RP patients with negative surgical margins (NSM).
Mustafa Tasdemir, Unal Oztekin, Mehmet Caniklioglu, et al.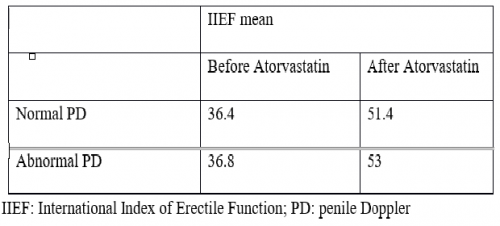 Erectile dysfunction is defined as the failure to create and/or maintain the necessary rigid erection for a satisfactory sexual intercourse []. There is usually a multifactorial etiology. Many psychological, neurological, endocrinological, vascular, pharmacological, traumatic, iatrogenic factors have been described as etiologic factors. Potential risk factors are smoking, advanced age, alcohol addiction, hypertension, hyperlipidemia, diabetes mellitus (DM), depression, vascular diseases, some drugs and some surgical procedures and operations. Penile erection is a complex physiologic and hemodynamic process that requires an intact arterial blood flow and a venocclusive mechanism in the corpus cavernosum. This process is related to the integration between central and peripheral nervous systems as well as the ratio of the trabecular smooth muscle to the connective tissue in the corpus cavernosum []. The most important and most common diagnostic test used in vascular ED is penile color Doppler ultrasonography (US). After an intracavernosal injection of a vasoactive substance (papaverine, prostaglandin E1, etc.), increase in penile artery diameter, blood flow velocity, systolic velocity and end-diastolic velocity can be measured and especially arterial and indirectly venous system can be evaluated in penile color Doppler US. Penile erection is achieved thanks to adequate arterial distribution. The main cause of arteriolar insufficiency is atherosclerosis but it can also be caused by trauma or congenital anomalies. Atherosclerotic lesions are characterized by smooth muscle proliferation and accumulation of lipid in the vessel wall. Hypercholesterolemia, smoking, DM, exposure to radiation and perineal trauma are risk factors that can be associated with ED []. The presence of hypercholesterolemia increases lipid storage in vascular lesions, resulting in atherosclerosis and consequent blockage of blood flow. Use of high-resolution ultrasonography and quantitative Doppler spectral analysis technique in the evaluation of vasculogenic ED was first described by Lue et al. in 1985 []. The cavernous artery exhibits very pronounced gray scale changes after injection of an intracavernosal vasoactive agent. The leading change among these alterations is the increase in arterial diameter. As reported in many studies, the expected increase in the diameter of cavernous arteries varies between 70-100% []. Measurements of maximal systolic velocity (MSV), end- diastolic velocity (EDV), acceleration (A), acceleration time (AT) and resistive index (RI) (RI= MSV-EDV / MSV) have been used to demonstrate the hemodynamic status of the cavernous artery. Post-injection MSV measurement in arteriogenic ED are the most commonly used parameter in assessing arterial insufficiency. Collins and Lewandowski found average MSV as 26.8 cm/sec in patients responding to intracavernous papaverine injection [6]. Most of the studies have accepted MSV values above 30-40 cm/sec as normal [–]. In cases of venogenic ED excessive venous leakage occurs from corpus cavernosum, In a patient with increased diastolic velocity, venocclusive mechanism is presumably insufficient. The EDV value, which can be considered significant for the assessment of venous leakage, has been reported to be over 5 cm/sec in many studies [,]. The aim of this study is to compare PDU, IIEF, EFDS results before and after atorvastatin treatment in hyperlipidemic patients with ED.
Murat Koser, Nilgun Isiksacan, Ramazan Korkusuz, et al.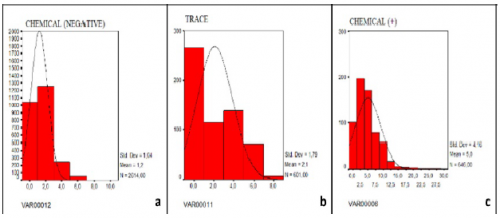 Urinary tract infection (UTI) is one of the most common infections. Most women experience UTI at least once in their lifetime []. The most common microorganisms are gram- negative enteric bacteria. Most prevalently Escherichia coli is grown in urine cultures. Bacterial growth due to contamination in urine culture is seen at a rate of 29-32% which is one of the problems that complicate clinical evaluation [,]. Complete urinalysis (CUA) is one of the fast, reliable, easy, cheap and sensitive screening tests of clinical laboratories. The compatibility of this test with urine culture is very important in both children and adults. CUA is used often especially in the diagnosis of urinary tract infections, selection of treatment and monitoring recovery. CUA also helps in the differential diagnosis of diseases and it is necessary to be able to initiate treatment as early as possible []. Today, as a result of the increasing workload and technological developments, traditional methods are replaced by fully automated urine analyzers. In this study, we aimed to group the leukocyte parameter measured in microscopic units of fully automated urine analyzers according to the results of chemical analysis and to evaluate its compatibility with urine cultures performed on the same day.
Eda Celebi Bitkin, Alper Bitkin, Ender Cem Bulut, et al.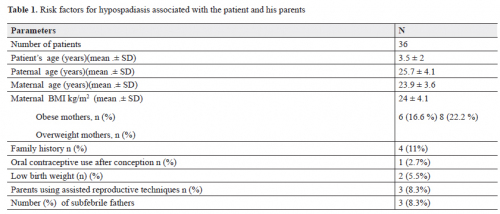 Hypospadias is a congenital anomaly due to inadequate virilization of the genital tubercle, characterized by insufficient tissue formation in the ventral aspect of the penis and urethra, and in which the urethral meatus opens more proximally than it should be in the ventral aspect of the penis []. It is a common disease affecting one in every 200 to 300 newborn males []. The total prevalence of hypospadias in Europe is 18.6 new cases per 10,000 births []. The most commonly used classification is formulated as anterior or distal hypospadias, midshaft, middle or penile hypospadias, and posterior or proximal hypospadias, depending on the position of the external meatus []. It has been suggested that genetic factors, maternal-placental factors, insufficient hormonal stimulation and environmental factors are involved in the etiology of hypospadias. Therefore, hypospadias etiology is thought to be multifactorial [–]. Studies conducted to evaluate the etiology of hyposypadiac have focused on different components with resultant lots of confusing information []. The aim of our study is to contribute to the etiology of hypospadias and to evaluate the risk factors associated with it.
Hasan Salih Saglam, Haci Ibrahim Cimen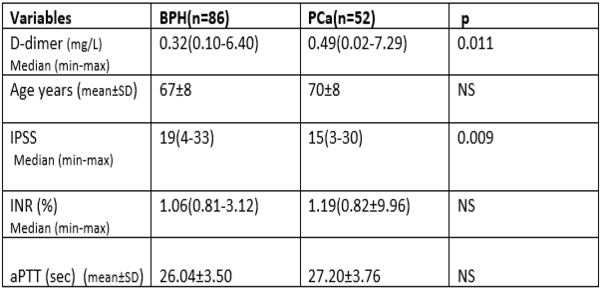 Prostate cancer (PCa) has been shown to be the second-most common malignancy and the fourth leading cause of death in men worldwide. Epidemiological studies have revealed that its incidence is rising in the era of the prostate-specific antigen (PSA) []. Although PCa can be managed in the early stages by surgical intervention or radiation, over time, approximately 7.0% of cases of PCa metastasize and progress to castration-resistant cancer, even with aggressive hormone deprivation therapy [–]. The prognosis is poor in men with distant metastases of PCa, in which bone is the most common site of involvement []. Today, the routine diagnostic screening tests for PCa include measurement of PSA in the blood, digital rectal examination and, ultimately, a systematic transrectal ultrasound-guided biopsy [,]. However, despite the rapidly growing number of candidate biological markers of prognosis and/or response to specific treatments in PCa, to date, none have shown the ability to give a complete understanding of prognosis for PCa in evidence-based urology. Many tools have been used to determine advanced stages of PCa in addition to PSA, comprising C-reactive protein, ceruloplasmin, beta-2-microglobulin, fibronectin and calcitonin etc. [–]. In this context, D-dimer, which is another biomarker, has been associated with advanced and metastatic cancers. D-dimer is produced as a result of cleavage of cross-linked fibrin by the fibrinolytic enzyme plasmin. Therefore high levels of D- dimer indicate activation of coagulation and fibrinolysis []. Although not extensively studied, it has also been suggested that PCa increases serum D-dimer levels. However, conflicting data exist regarding the association of D-dimer levels with the stage of the disease []. In this study, we aimed to exhibit a presumptive relation of D-dimer levels with PCa.