Ekrem GUNER

Dear colleagues, I am honored to share with you the third issue of the Grand Journal of Urology (Grand J Urol) with the contributions of many respected researchers and authors. Our journal has been indexed in Index Copernicus International (ICI), EuroPub and SciLit international databases since the second issue. Our applications to Ebsco Host and J Gate databases were also accepted and license agreements were signed mutually. The journal and its content will soon be included in the relevant databases. As of these achievements, the Grand Journal of Urology (GJU) has taken its place among the journals indexed by international databases. With this result, GJU was entitled to be included in the journals in category 1b defined in the application criteria for associate professorship. In this third issue of our journal, there are many valuable articles under the subheadings of Female Urology, General Urology, Urolithiasis, Urological Oncology, Renal Transplantation, Andrology, Functional Urology, Neurourology and Genitourinary Radiology. I hope that these carefully prepared articles will make important contributions to valuable readers, researchers and the urology literature. On this occasion, I would like to express my heartfelt gratitude to our authors who have contributed to our journal with their articles, to our reviewers who have meticulously evaluate the articles, to our designers and to our publisher. Respectfully yours September 2021 Assoc. Prof. Ekrem GUNER, MD Editor-in-Chief
Kamil Gokhan Seker, Emre Sam, Yusuf Arikan, et al.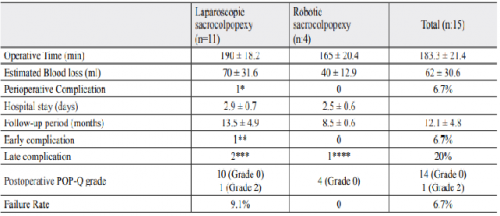 Pelvic organ prolapse (POP) affects nearly half of the female population []. Approximately 12.6% of women have a lifelong POP operation risk and this rate is considered to increase over years with aging, while importance was attached to quality life and the increasing awareness for pelvic base diseases []. Corrective restorative operations can be applied vaginally or abdominally in POP surgery. Higher rates of strength, and endurance of anatomic strcuctures are achieved using abdominal approach [-]. Thus abdominal sacrocolpopexy is regarded as the golden standard treatment method in the treatment of apical prolapse [,]. On the other hand, abdominal sacrocolpopexy is also associated with relatively longer operative times, delayed return to daily activities, higher morbidity, longer hospital stay and increased hospital costs compared to the vaginal approach []. Laparoscopic sacrocolpopexy was first defined by Nezhat et al in 1994 to overcome the present disadvantages of abdominal sacrocolpopexy []. With the developments in robotic surgery, robotic sacrocolpopexy was first applied by Di Marco et al in 2004 []. The studies showed that minimally invasive sacrocolpopexy had an equivalent efficiency compared to abdominal sacrocolpopexy [-]. Additionally, speeding up patient recovery and minimizing surgical morbidity have caused extensive use of minimally invasive sacrocolpopexy in recent years [,]. The objective of this study was to review our minimally invasive sacrocolpopexy experiences and present our results.
Deniz Noyan Ozlu, Ekrem Guner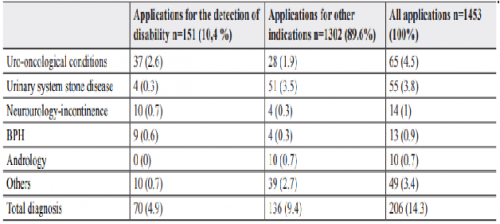 In Turkey, a health board report is issued every day for many patients due to various health problems. In addition to requesting a general health report in cases such as determination of age, and gender, and for employment in some occupational groups, applications to health boards for the determination of disability constitute also an important place among these applications. The term "disabled" in the legislation; is defined as "the person who has difficulties adapting to social life and meeting his/her daily requirements due to the loss of his/her physical, mental, spiritual, sensory and social abilities to various degrees due to any reason, and needs protection, care, rehabilitation, counseling and support services" []. Disability Health Board consists of specialists in internal medicine, ophthalmology, earnose- throat diseases, general surgery or orthopedics, neurology or mental health and diseases []. The fact that urology is outside of these standard branches is due to the relatively lesser number of applications made regarding urogenital system-related pathologies. However, the branch of urology is included in the evaluation process in the health board in cases of employment for a number of professional groups, age and gender determination and declaration or determination of a urological pathology. Many studies have been performed in different specialties related to pathologies detected in patients who applied to the health board for detection of disability and for other indications [,,]. However, there is no published article investigating the applications to the health board in the field of urology. The aim of our study is to determine the defined urological pathologies and their incidence rates in patients who applied to our hospital"s medical board.
Ahmet Semih Guleser, Mert Ali Karadag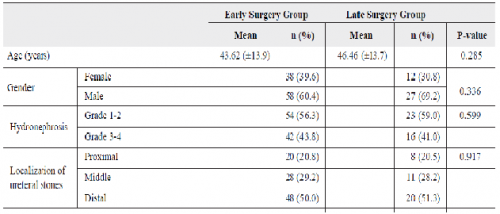 Worldwide, the prevalence of urinary system stone disease has been reported to vary between 1% and 20% []. Urinary system stones are treated according to their size, their anatomical location, and the complications they cause. Treatment options for ureteral stones include observation, medical expulsive therapy (MET), extracorporeal shock wave lithotripsy (ESWL), percutaneous antegrade ureteroscopy, retrograde ureteroscopy, and open or laparoscopic ureterolithotomy []. The treatment alternative chosen will depend on the location and size of the stone, the available technology, the treatment costs, the surgeon"s experience and the patient"s preference []. A meta-analysis has revealed that 68% of stones smaller than 5mm can pass spontaneously. This rate decreases to 47% for stones 5–10 mm in size []. The location of the stone is also an important factor in the possibility of spontaneous passage; 48% of proximal ureteral stones, 60% of middle ureteral stones, and 75% of distal ureteral stones may pass spontaneously []. For small ureteral stones, when there is no sign of infection and when the symptoms can be controlled, waiting for the stone to pass spontaneously is a good option. This approach also protects the patient from invasive surgical procedures and unnecessary costs. MET is an effective treatment approach for this patient group []. The MET method should not be used for stones larger than 10 mm []. It is still unclear exactly how long the waiting period will be between observation or MET and spontaneous stone passage. According to various studies, this period usually ranges from two to six weeks [,]. In patients with complete renal obstruction, urinary diversions may save kidney functions within a week, but, even if the obstruction is resolved, kidney functions may not recover for longer periods []. In this study, we aimed to evaluate the effects of ureteorenoscopic stone removal on kidney function in unilateral ureteral stones.
Huseyin Cihan Demirel, Emre Tokuc, Semih Turk, et al.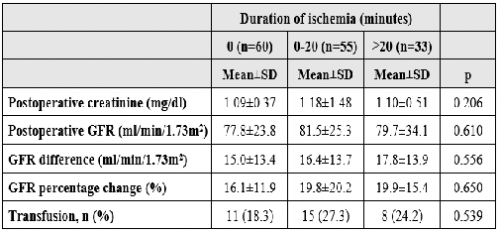 In recent years, majority of renal masses are incidentally diagnosed with the increase of advanced imaging techniques []. Having similar outcomes as radical nephrectomy (RN), partial nephrectomy (PN) has been the gold standard for
Serdar Karadag, Ramazan Ugur, Emre Sam, et al.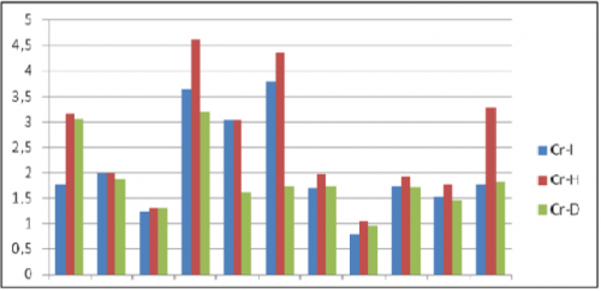 A novel type of coronavirus disease emerged in December 2019 in Wuhan, the largest (and capital) city of Hubei Province in China []. Its rapid spread across the world led to it being declared a pandemic by the World Health Organization (WHO) []. The disease was named COVID-19 and the effective virus was named SARS-CoV-2 []. Although the disease generally affects the respiratory system, it also presents with different symptoms ranging from a mild cold to severe respiratory syndrome and can also affect kidneys, heart, skin, respiratory, and nervous systems [,]. Advanced age and presence of hypertension (HT), smoking, chronic obstructive pulmonary disease (COPD), and diabetes mellitus (DM) increase the risk and the extent of the effect of the disease [–]. Since immunosuppression is the most significant characteristic of COVID-19, patients with a suppressed immune system or those using immune system suppressing drugs constitute a particular population whose needs should be considered separately. Kidney transplant patients would usually take immunosuppressive treatment, such as tacrolimus (Tac, calcineurin inhibitors), mycophenolate mofetil (MMF), mycophenolic acid (MPA), and steroids (Pred) or methylprednisolone (MP) []. There is no suitable, efficient, and clear treatment protocol is currently available for how these treatments should be applied for a patient with COVID-19 disease now. Our aim in this study is to examine whether the continuous use of immunosuppressive drugs in kidney transplant patients is effective in the pathogenesis of COVID-19 and its effects on the progression of the disease. In addition, it is to examine the diagnosis, treatment and follow-up protocols applied in our center in the light of current COVID-19 literature and to determine a treatment specific to both COVID-19 and immunosuppression.
Dilay Karabulut, Mustafa Gurkan Yenice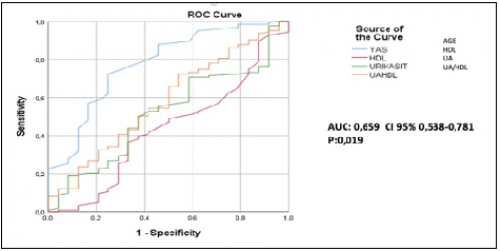 Sexual health is one of the essential components of global health and good life of quality. Atherosclerotic cardiovascular disease (ASCVD) and vascular sexual dysfunction have similar pathogenesis []. Erectile dysfunction (ED) is defined as the inability of erection to last long enough to start and maintain sexual intercourse. About 1/4 to 1/3 of adult men experience this problem [,]. ED may develop due to many reasons such as genetic, organic, anatomical disorders, systemic diseases, lifestyle, and environmental factors. Usually, the underlying cause is not single but a combination of several factors []. Vascular damage due to endothelial dysfunction prevents adequate vasodilation of the penile vessels in response to sexual stimulation and causes ED. Therefore, vascular ED may be an early manifestation of CVD and is associated with vascular risk factors such as hipertension (HT), diabetes mellitus (DM), dyslipidemia and, smoking []. The enzyme xanthine oxidase synthesizes uric acid []. Uric acid (UA) to high-density lipoprotein (HDL)-cholesterol ratio (UHR) is a new parameter, which has been investigated in patients with type 2 diabetes mellitus with metabolic syndrome []. HDL cholesterol levels are negatively correlated with oxidative stress and the degree of inflammation in chronic diseases []. Several epidemiological studies showed significant relationship between serum UA levels and various cardiovascular conditions such as HT, metabolic syndrome, coronary artery disease (CAD), cerebrovascular (CV) disease, and dementia. [-]. Studies concluded that there is a significant relationship between uric acid and inflammation. It has been claimed that the effects of uric acid on mortality and poor prognosis occur through its pro-inflammatory mechanism []. High uric acid and low HDL lead to poor cardiovascular outcomes by increasing endothelial dysfunction and oxidative stress. Studies have shown that the combined effect of the two causes more damage [,]. The related literature shows that, there is limited knowledge about the relationship between UHR and ED. Considering the strong relationship between erectile dysfunction and cardiac diseases, it was hypothesized that the uric acid to HDL ratio, associated with cardiovascular mortality, could predict erectile dysfunction.
Bekir Voyvoda, Omur Memik, Onur Karsli, et al.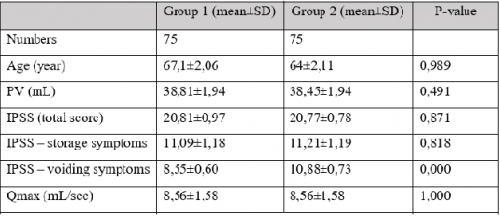 Benign prostatic hyperplasia (BPH) is a widespread disease among elderly men. It was also known that in men beyond the age of 50 histological BPH will develop []. As a result of the proliferation of epithelial and stromal cells, prostate gland growth occurs and it is characterized with an increase in the micturition frequency, difficulties in initiating micturition, nocturia, urgency, a low stream of urine, and a prolonged period of micturition []. All these disorders should be called as lower urinary tract symptoms (LUTS). Stimulation of α-adrenergic receptors (ARs), resistance increases in hyperplastic prostate tissue, capsule, prostatic urethra and, bladder outlet. This is an important pathological mechanism in BPH-associated LUTS []. α1A-ARs and α1D-ARs mRNA are present in hyperplastic stromal prostate as well as in normal human prostate. Expression of α1A-AR is particularly increased in BPH [-]. The stromal α1A-ARs play an important role in the contraction of the prostate and, consequently, in the dynamism of BPH. Their antagonism may explain the relief of micturition difficulty []. In the prostatic contraction, the predominance of the α-1ARs subtype may play a primary role, so that this has led to investigation the α-1ARs-selective compounds in the notion of uroselectivity or prostate selectivity []. Studies have reported that silodosin has a higher affinity for the α1A-ARs than the α1B-ARs subtype and also higher selectivity for the lower urinary tract. Silodosin has >162-fold greater selectivity for the α1A over the α1B subtype and >50- fold greater selectivity for the α1A over the α1D subtype []. Thus, of all commercially available α1-AR blockers, silodosin is the most uro-selective and most potent relaxant in vitro to the prostate mediated by α1-ARs [,–]. Oral silodosin is a highly selective α -1A-ARs antagonist which rapidly improves LUTS caused by BPH and allows the improvements in storage and voiding symptoms []. In our study, we evaluated the efficacy of silodosin in patients with LUTS caused by BPH refractory to previous AR blocker therapy.
Oztug Adsan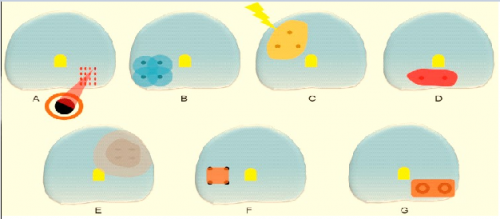 Localized prostate cancer is the most common cancer in males today []. Most commonly used curative therapy methods among the therapies applied for prostate cancer are surgery or radiotherapy-based treatment modalities. However, these therapies have severe short-, and long-term side effects []. Active surveillance and follow-up protocols aim to save the patients from treatment-related side effects. Known slow progressive course of prostate cancer can only enable followup through surveillance in some prostate cancer types. Severe side effects which may be caused by complete resection or treatment of especially low- or intermediate- risk prostate cancer may shadow treatment success. Although complete resection or radiotherapy of the prostate in high volume or high-risk prostate cancer is still an important treatment option, imaging-guided focal ablation therapies in other prostate cancer types have currently become important treatment alternatives []. Magnetic resonance (MR) imaging has made an undeniable contribution in popularization of focal ablation therapies in prostate cancer. Targeted biopsies have now replaced standard biopsies in prostate cancer thanks to multiparametric MR imaging. Focal ablation or hemiablation options has been started to be used in visible prostate lesions. Focal ablation therapies have become the standard treatment option in renal cell carcinoma and solid organ tumors such as thyroid, liver, breast and pancreas. Multifocal character of the tumor is the most important obstacle for the focal ablation therapies in prostate cancer. In addition, the close proximity of the tumor to rectum and nerves controlling erectile and the need to preserve continence mechanism are vital issues worth considering. Lesions over 0.5 cm3 are known as clinically significant cancer markers in prostate cancer. Based on prostate cancer surveillance studies, prostate tumors less than 1.3 cm3 have a lower possibility of becoming clinically significant. It should not be forgotten that clinically insignificant tumors under 0.5 cm3 in size can be aggressive or can reach high volumes. Thus random biopsy is still the standard application in addition to the pathological samples taken from the target lesion []. The objective of this review was to compare the focal ablation techniques used recently in prostate cancer treatment. Focal Ablation Types and Clinical Results Irreversible Electroporation (IRE) (NanoknifeTM) Many thermal-energy based techniques are used to induce cellular damage. While most of these operate with high thermal energy, some depend on cooling-based techniques. Irreversible electroporation (IRE) causes non-thermal cellular damage through a different system. Direct flow rhythmically applied with low energy on the cell induces cellular apoptosis by keeping all cell wall pores open. Energy used in IRE is provided through the needles inserted into the tissue. The energy applied through a special device is monitorized through ultrasound (US). IRE was first applied in 16 locally advanced prostate cancer patients by Onik et al. Side effects such as erectile dysfunction and urinary incontinence were not observed in these patients[5]. Later on Valerio et al. published their IRE experience in 34 patients and mentioned inadequate treatment only in one patient []. In the study by Van den Bos et al., IRE treatment was applied one month before the operation in 16 patients who would undergo radical prostatectomy Histopathological evaluation of post-radical prostatectomy specimens showed satisfactory ablation in targeted areas without skipping any lesion []. IRE treatment was applied in 123 patients diagnosed with locally advanced prostate cancer in the largest biopsy- controlled study and ablation success rate up to 97% was achieved in the control biopsy samples taken from the treatment area at the end of 1 year. In this study, it was shown that urinary continence was achieved in 98.8% of the patients and potency didn't change in 76% of the patients at the end of 12 months []. Photodynamic Therapy (PDT) In photodynamic tissue ablation tumoral tissue is destructed through the activation of vascular photo stimulators under light at certain wavelengths. As a result, the number of free radicals in the tissue increases. Following the intravenous application of photo stimulators, laser is applied transperineally or transrectally at certain wavelengths. One hundred and sixteen stage cT1 and cT2b prostate cancer patients were treated in a prospective study performed using photodynamic therapy (PDT). Median PSA value was 6.4 ng/ml for patients with low and intermediate - risk prostate adenocarcinoma. While no clinically significant cancer was detected in any of the patients, clinically insignificant cancer was detected in 46% of the patients at the end of six months. While no continence data was available, 88.4% of the patients had maintained their potency [,]. High-intensity Focused Ultrasound (HIFU) In high-intensity focused ultrasound therapy, tissue ablation through thermal energy is accomplished using focused ultrasound. Temperature over 60 °C is generally achieved in the tissue. HIFU induces formation of coagulation necrosis and cavitations in the targeted tissue. It is the only system among focal applications which doesn"t use needles or electrodes. It can be applied transrectally or transurethrally using the new highintensity focused ultrasound (HIFU) systems. Many studies including more than 300 prostate cancer patients have been performed. The results are variable due to the non-homogeneous character of the studies and different application methods. Targeted prostate biopsies were performed in most patients. Secondary treatment starting rate was reported as 7.8% in the studies completing post-treatment 12 surveillance months. While continence rate was reported as 100%, potency was maintained in 88% of the patients [–]. Cryotherapy This ablation system uses thermal energy. Extreme tissue cooling causes cell death by inducing osmotic cell injury. Cooling is performed on the targeted area using transperineally inserted needle electrodes. Ice ball image is seen between cryoneedles. A quite high number of patients have been treated and followed up for longer periods of time. Most of these studies had a retrospective design. Secondary treatment has been started at a rate of 7.6% in the studies with one-year followup period. Severe side effects were reported in 2.5% of the cases. Continence was preserved in 100%, and, potency was maintained in 81% of the patients [–]. Focal Laser Ablation (FLA) In FLA, laser therapy is directly applied on the targeted area. Interstitial coagulation necrosis in the tissue is generally formed through the use of neodymium or diode laser. Thermal energy applied raises the temperature in the targeted tissue up to 60 °C. Increase in tissue temperature is monitored through thermal receptors during the operation. A single laser probe is generally used in transperineal or transrectal applications. FLA has been performed on patients with low and intermediate risk, and average PSA value was reported as 5.4 ng/ml. As the long-term results of the patients have not been acquired yet, secondary application rate is not certain. Continence and potency preservation rates were reported as 100% [,]. Radiofrequency Ablation (RFA) In RFA tissue ablation is achieved through thermal energy. Coagulation necrosis of the tissue is performed through the provision of alternative flow in the targeted area using the transperineally inserted needles.. Pathological results were reported for 15 patients who had received RFA before radical prostatectomy. Tumor persisted in all patients. No other treatment aiming study was reported [].
Dogukan Sokmen, Yusuf Ilker Comez, Hasan Kerem Alptekin, et al.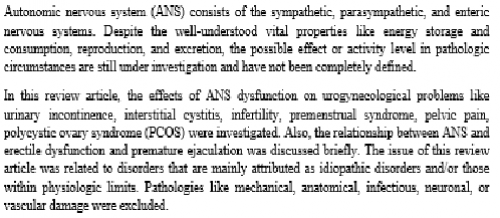 Autonomic nervous system (ANS) consists of the sympathetic, parasympathetic, and enteric nervous systems. Despite the well-understood vital properties like energy storage and consumption, reproduction, and excretion, the possible effect or activity level in pathologic circumstances are still under investigation and have not been completely defined. In this review article, the effects of ANS dysfunction on urogynecological problems like urinary incontinence, interstitial cystitis, infertility, premenstrual syndrome, pelvic pain, polycystic ovary syndrome (PCOS) were investigated. Also, the relationship between ANS and erectile dysfunction and premature ejaculation was discussed briefly. The issue of this review article was related to disorders that are mainly attributed as idiopathic disorders and/or those within physiologic limits. Pathologies like mechanical, anatomical, infectious, neuronal, or vascular damage were excluded. Estrogen Estrogen leads to vasodilatation in both arteries and veins. The levels of circulating estrogen may not reflect the total activity because their levels in the tissue and their intracellular activities are influenced by concentrations of enzymes like aromatases. The reduction in the estrogen levels causes sympathetic overactivity and an increase in norepinephrine levels in the blood []. It controls sympathovagal balance centrally and prevents sympathoexcitation. Estrogen receptors are localized on autonomic neurons from the spinal cord to the brain. The injection of estrogen to the rats increases vagal parasympathetic activity and decreases renal sympathetic activity []. However, there are still questions about the effects of estrogens on ANS and the cardiovascular system []. Sympathetic nerve activity does not change during the menstrual cycle in young eumenorrheic women but orthostatic stress causes different sympathetic responses in the early follicular and mid-luteal phases. Although the sympathetic baroreflex sensitivity remains stable, the sympathetic response increases during the mid-luteal phase []. This may due to vasodilatation in the mid-luteal phase as a result of elevated estrogen or regression of estrogen dominance by progesterone. Consequently, estrogen seems to have an impression on ANS but the accurate measurement and the way of affection are still undefined. PCOS and Infertility Polycystic ovary syndrome (PCOS) is a metabolic disorder with oligo/anovulation and hyperandrogenism []. Obesity, hyperinsulinemia, obstructive sleep apnoea are frequently associated with sympathetic nervous system (SNS) hyperactivity which can be an etiologic precipitant or a result. The local or widespread sympathetic predominance in ovary is correlated with testosterone levels. Weight loss, insulin sensitizers, electroacupuncture, continuous positive airway pressure can decrease sympathetic hyperactivity and are beneficial in the treatment of PCOS []. Tekin et al. found that PCOS patients have reduced vagal activity through decreased heart rate variability, impaired heart rate, and recovery of systolic blood pressure after exercise []. Yildirir et al. also showed similar results in the same patient group []. High sympathetic activity is strongly associated with testosterone level and in combination, they enhance vascular problems in PCOS []. Stener-Victorin et al. hypothesized that impaired β-endorphin function, its increased production, and release have a role in the PCOS process. Low-frequency electro-acupuncture (1-15 Hz) decreases central β-endorphin concentration and sympathetic tone []. This possibly regulates the secretion of gonadotropinreleasing and gonadotropin hormones in addition to the decline in ovarian androgen production [,]. Low-frequency electroacupuncture and physical exercise exert similar effects on disease behavior in long-term follow-up, and partial healing with the decrement in the activity of the sympathetic nervous occurs []. For infertility, despite opposite results [], we can accept a sympathetic tendency or mild elevation during the second half of normal menstrual cycles as Yuna et al. mentioned. They also declare that this tendency is essential for T helper balance for fertility. Sympathetic and T helper-2 activity-related disorders mostly worsen in the luteal phase []. Although ovarian hormones are accounted for this process, autonomic dysfunction also must be kept in mind. T helper-2 cells and related cytokines allow the development of allograft tolerance []. Smoking is a well-known risk factor for infertility [,]. Park et al. found that sympathetic nerve activity does not decline in the early follicular phase compared with the mid-luteal phase in premenopausal smokers which may be crucial for fertility. Smoking exerts its effects on the cardiovascular and reproductive system also via impaired SNS activity []. Urinary Incontinence and Interstitial Cystitis ANS function is essential for normal urinary system functioning. The parasympathetic nervous system regulates bladder contraction, sphincter relaxation, and SNS does the opposite. Idiopathic overactive bladder syndrome (IOBS) causes urgency with or without incontinence. Both sympathetic and parasympathetic activity is attenuated in the overactive bladder and autonomic imbalance exists [-]. Hubeaux et al. declared a sympathetic ANS dysfunction especially in IOBS patients without detrusor overactivity []. However, Sauver et al. stated that men with lower urinary tract symptoms do not have a high sympathetic tone or ANS dysfunction []. Hyperthyroidism can cause increased sympathetic and decreased parasympathetic activity. The imbalanced ANS in hyperthyroidism may also cause lower urinary tract symptoms and in patients with hyperthyroidism urinary incontinence risk increases []. Hyperthyroid women have lower peak flow rates of micturition and this resolves in the euthyroid state []. Interstitial cystitis is an idiopathic illness with visceral sensory hypersensitivity characterized by increased urinary frequency/urgency and pelvic pain []. Pelvic pain worsens as the bladder fills and resolves with emptying. Interstitial cystitis or painful bladder syndrome coexists with other central and autonomic nervous system disorders like irritable bowel syndrome, fibromyalgia, chronic pain, migraine, syncope, and functional dyspepsia so it is like a part of systemic disorder or syndrome, and does not affect only bladder []. SNS dysfunction or predominance could be the underlying pathology of these disorders []. An extra information we can say about the urinary system and ANS is that the impairment of parasympathetic nerve function is associated with asymptomatic leukocyturia []. Evidence generally supports ANS dysfunction in IOBS, interstitial cystitis, etc. but possibly because of its nature we find sometimes contradictory results related to functions of ANS. Pelvic Pain Pelvic pain seems mostly a gynecologic complaint but it can emerge from pelvic floor muscle and viscera or surrounding structures like lumbosacral, hip, and sacroiliac joints []. There is limited, insufficient but supporting evidence about the existence of autonomic dysfunction in chronic pelvic pain. Dysmenorrhea, dyspareunia, pain with bowel movements accompany this prevalent disorder []. Baker et al. found that parasympathetic activity during sleep is decreased in premenstrual syndrome patients when they are symptomatic in the late luteal phase of the cycle []. Spinal cord stimulation seems an effective way of treatment in chronic intractable pelvic pain. One possible mechanism is the downregulation of the sympathetic outflow to the pelvis []. Yilmaz et al. found that ANS dysfunction exists in men with chronic prostatitis/chronic pelvic pain syndrome. They found findings related to heart rate variability similar to fibromyalgia []. Cho et al. also supported this information by pointing out that autonomic dysfunction may be one of the underlying mechanisms in the development of chronic pelvic pain []. Erectile Dysfunction and Premature Ejaculation The parasympathetic nervous system causes penile arterial dilatation and relaxation of the smooth muscles of the corpora cavernosa []. Pelvic diseases like erectile dysfunction, premature ejaculation, benign prostatic hyperplasia, incontinence, overactive bladder, pelvic pain, colorectal motility disorders seem to have a connection with each other possibly via the ANS network. The deterioration of the function of a structure also leads to the inevitable impairment of the adjacent structures []. Erectile dysfunction is characterized by ANS imbalance/dysfunction and SNS hyperactivity [-]. In normal conditions, ejaculation is maintained by SNS, however premature ejaculation is also associated with SNS hyperactivity like erectile dysfunction [].
Mecit Celik, Muhammed Emin Polat, Caglar Sarioglu, et al.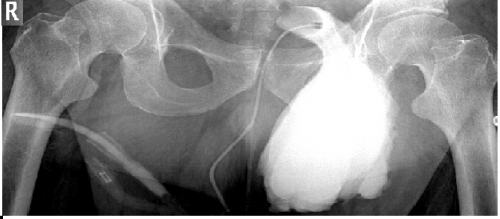 Inguinal bladder hernia was described first in 1951 by Levine [,]. Although bladder herniation is seen in 1%-4% of cases with inguinal herniation, massive herniation of the bladder is very rare. Incidence of bladder herniation increases in obese people, males, and individuals aged >50 years [,]. Most of the patients with bladder hernias are asymptomatic and diagnosed during inguinal hernia repair []. Less than 7% of patients are diagnosed preoperatively, and 16% of them postoperatively because of complications []. There are nonspecific urologic symptoms because of urinary retention , such as urgency, frequency, nocturia. Urinary tract infection, bilateral hydronephrosis, renal failure and bladder infarction may be seen if it isn"t diagnosed timely and properly []. We present the case of a male patient who came to the emergency department with the complaint of scrotal swelling that had been present for one week. He had left inguinoscrotal hernia and the entire bladder of the patient was herniated into the inguinal canal, and also acute kidney failure developed.
Selman Unal, Halil Uzundal, Turker Soydas, et al.
Lymphoma of the prostate, either primary or secondary is a rare condition. Prostatic involvement by lymphoma has been reported in less than 200 cases []. Mantle cell lymphoma (MCL) represents 4-9% of all lymphomas. Waldeyer's ring, bone marrow, peripheral blood, liver and the digestive tract, are commonly involved by MCL []. Prostatic involvement is very rare, with only 11 reported cases [-]. Here we describe a case presented with lower urinary tract symptoms (LUTS) and prostate-specific antigen (PSA) elevation, diagnosed with MCL of the prostate and literature review.
Sengul Aydin Yoldemir, Isil Kibar Akilli, Muge Bilge, et al.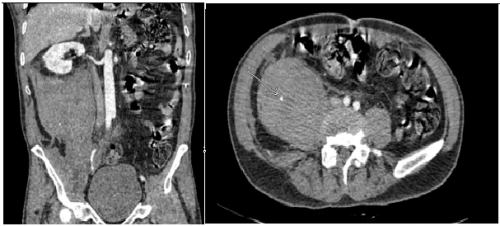 Spontaneous retroperioneal hematoma is a very rare, serious clinical condition defined as bleeding into the retroperiotenal area without associated trauma or surgical intervention []. The most important causes are anticoagulants, vascular diseases and renal tumors []. When the event occurs, the general condition of the patient may deteriorate due to weakness, flank pain, and hypotension requiring immediate intervention. In addition, hematoma can cause symptoms due to local compression on adjacent organs []. Although anticoagulants are useful in pulmonary embolism, stroke and deep vein thrombosis, they can cause bleeding in any part of the body []. Increased risk of disseminated intravascular coagulation (DIC) and venous thromboembolism are two of the leading causes of death in COVID-19 patients. Increase in D-dimer levels is often a herald of this situation []. The most important reason leading to multiple organ failure and death is hypercoagulability causing microvascular thrombus which is treated with antithrombotics such as heparin []. Anticoagulants are useful at therapeutic doses, but their common use increases the likelihood of spontaneous bleeding. While the probability of bleeding associated with anticoagulants is 4.8-8%, this rate has been reported as 3.5% in terms of major bleeding. Several cases of fatal retroperitoneal bleeding in COVID-19 patients receiving prophylactic or therapeutic doses of anticoagulant therapy have been previously reported in the literature [–]. Most cases are self-limited and resolve with cessation of anticoagulation and conservative treatment. The success rate of conservative treatment is dependent on the occurrence of these hematomas in confined spaces surrounded by adjacent structures []. In some cases, especially if there is a delay in diagnosis also non-adjacent vessels may rupture. And in such cases, the mortality rate is high []. In these special cases where persistent bleeding or hemodynamic instability despite conservative treatment occurs, transcatheter arterial embolization (TAE) may be required. Surgical treatment is applied in rare cases. Herein, we describe two cases of life-threatening retroperitoneal hemorrhage developed during the clinical course of COVID-19. In both cases, respiratory distress caused by COVID-19 was improving when they developed retroperitoneal hemorrhage. Moreover, the patients were taking anticoagulants to prevent thrombosis. One of our patients recovered with TAE and the other with conservative treatment. Both of our patients were followed up without the need for intensive care, and were discharged.
Omer Yildiz, Mustafa Orhan Nalbant, Elif Hocaoglu, et al.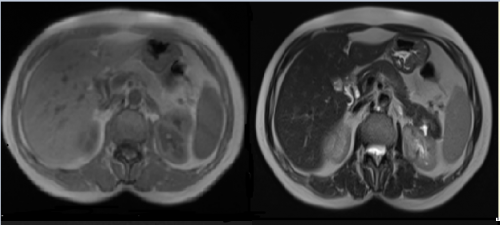 A 55-year-old female patient admitted to the emergency department with one week long abdominal pain. In the physical examination of the patient, no clinical finding other than sensitivity was observed. The laboratory tests were normal. Because there was discordance between the patients clinical findings and laboratory tests, ultrasound exam was performed to exclude acute abdomen and a mass was detected in the anterior of left kidney's upper pole. There upon, the patient was discharged with recommendations and directed to the urology department. The patient had no history of malignancy or surgical history. Contrast enhanced abdominal magnetic resonance (MR) was performed for the lesion characterization. In the abdominal MRI, a lesion was detected in the anterior region of the left kidney's upper pole which is 36x20 mm in size. The lesion was hypointense on T2 weighted images (WI), slightly hyperintense on T1WI and had central cystic area. Since the mass was closely adjacent to the tail of the pancreas and had similar signal intensity with the pancreas on T2WI and postcontrast images, the origin of the lesion could not be made clearly between left kidney and pancreatic tail (Figure 1-5). Therefore, histopathologic verification was recommended for preoperative management. It was reported as angiomyolipoma, wihch is rich in smooth muscle and poor in fat, after staining with actin and HMB-45 along with immunohistochemical staining obtained as a result of the biopsy procedure. Figure 1: Axial T2 weighted (Contrast-enhanced abdominal magnetic resonance images of the patient) Figure 2: In phase (Contrast-enhanced abdominal magnetic resonance images of the patient) Figure 3: Out of phase (Contrast-enhanced abdominal magnetic resonance images of the patient) Figure 4: T1 Weighted, fat saturated T1 weighted (Contrast-enhanced abdominal magnetic resonance images of the patient) Figure 5: Post contrast images revealed a solid mass with central cystic area (Contrast-enhanced abdominal magnetic resonance images of the patient) Renal angiomyolipomas are the most common benign kidney tumors. Non invasive diagnostic capacity between benign and malignant lesions is not yet at the desired standard. Approximately 10-17% of the resected kidney tumors are benign, and 2-6% of them are reported as angiomyolipomas []. Angiomyolipomas contain smooth muscle tissue, blood vessels and macroscopic fat areas in varying proportions []. In most cases, it is diagnosed radiologically without any further examination due to the macroscopic fat content. In the radiological diagnosis of angiomyolipoma, we use findings such as containing densities below -10 HU in computerized tomography (CT) examination or showing suppression in fat saturated sequences in MRI []. In addition, chemical shift suppression techniques are useful in MRI in cases when there is a small amount of fatty tissue []. On the other hand, in 4.5% of angiomyolipomas, fatty tissue may not be seen radiologically []. Since the imaging findings of these fat-poor lesions, containing less than 25% fat, cannot be distinguished from RCC and they pose a serious problem []. RCCs, especially clear cell carcinomas, may also contain fat, but unlike angiomyolipomas, this adipose tissue is located at intracellular space and we use signal loss in out of phase MR sequence to differentiate RCC from angiomyolipoma []. Angiomyolipomas carry the risk of bleeding, especially in sizes over 4 cm and sometimes, fat densities can be overlooked due to intralesional bleeding and they can be confused with RCC []. Although new methods such as CT histogram [] and specific MR sequences [,] have been used in the separation of fatpoor angiomyolipoma and RCC with new developments in radiology and technology, the application and reliability of these methods in daily practice are not sufficient. Ethics Committee Approval: N/A. Informed Consent: An informed consent was obtained from the patient. Publication: The results of the study were not published in ful lor in part in form of abstracts. Peer-review: Externally peer-reviewed. Conflict of Interest: The authors declare that they have no conflict of interests. Financial Disclosure: The authors declare that this study received no financial support.