Ekrem GUNER

Dear colleagues, I am honored to share with you the second issue of 2023 (volume 3, issue 2) of the Grand Journal of Urology (Grand J Urol) with the contributions of many respected researchers and authors. Grand Journal of Urology (GJU) aims to carry written and visual scientific urology studies to academic platforms and to make significant contributions to the science of urology. Our journal has been abstracted/indexed in Tubitak Ulakbim TR Index, DOAJ, EBSCOhost, J-Gate, Index Copernicus International, EuroPub, SciLit, ResearchGate, ScienceGate and Google Scholar international databases. As of these achievements, the Grand Journal of Urology (GJU) has taken its place among the journals indexed by national and international databases. In this issue of our journal, there are many valuable articles under the subheadings of Andrology, Urological Oncology, Endourology, Urolithiasis, Pediatric Urology and General Urology. I hope that these carefully prepared articles will make important contributions to valuable readers, researchers and the urology literature. On this occasion, I would like to express my heartfelt gratitude to our authors who have contributed to our journal with their articles, to our reviewers who have meticulously evaluate the articles. Respectfully yours May 2023 Assoc. Prof. Ekrem GUNER, MD Editor-in-Chief
Jihad Anad Khalef, Ahmed Hadi Essa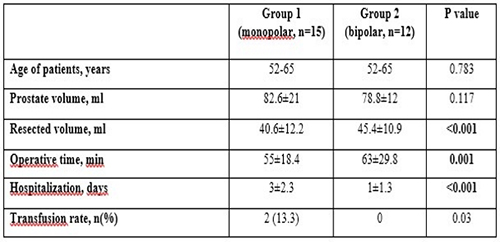 One of the most prevalent issues in older men is benign prostatic hyperplasia (BPH), which causes lower urinary tract symptoms (LUTS). With the aim of reducing side effects and improving quality of life (QoL) of the patients, numerous treatment methods are being used []. The gold standard for treating symptomatic BPH associated with prostate volumes ranging between 30 and 80 cc is monopolar transurethral resection of the prostate (TURP) []. It is approved as a treatment for LUTS secondary to BPH, but despite numerous technical advancements, it has drawbacks. Considering that it still has a morbidity rate of 11% and a death rate of 0.1%, we are looking for a new procedure that will produce the best possible functional outcomes []. The bipolar TURP is now being compared to the traditional monopolar TURP, with efficacy similar to the monopolar procedure but with reduced perioperative problems, insignificant TUR symptoms, lesser blood loss, and shorter catheter dwell time [-]. As a lengthy procedure a large prostate can be safely removed under normal saline irrigation []. We planned a three-arm trial with a focus on perioperative and postoperative complications as well as immediate functional outcomes because there was a lack of prospective randomized studies comparing monopolar and bipolar TURP. The aim of this study is to compare the outcomes of bipolar and monopolar TURP. To our knowledge, this twopart study is the first prospective randomized trial to compare monopolar TURP versus bipolar TURP [-].
Caglar Yildirim, Mehmet Yilmaz Salman, Abdulmecit Yavuz, et al.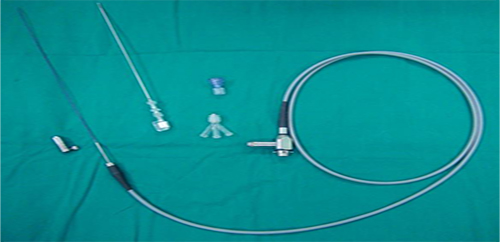 Urinary stone disease affects roughly 15% of the population []. Kidney stones are most seen in the lower pole calyces []. Retrograde intrarenal surgery (RIRS), percutaneous nephrolithotomy (PNL), and shock wave lithotripsy (SWL) are all minimally invasive methods used to treat kidney stones. Patients with stones in the lower pole calyces are treated differently from those with stones in the upper and middle pole calyces. Because lower pole calyceal stones must ascend the infundibulum of the lower pole, reach the renal pelvis, and then depart the kidney into the ureter, making their removal extremely difficult []. Many urologists choose SWL as a low-morbidity outpatient option, and many patients tolerate it. PNL is recommended as the primary choice by the European Association of Urology (EAU) for stones bigger than 2 cm and SWL or RIRS for stones smaller than 1 cm. However, the optimal treatment choice for mediumsized lower pole calyceal stones measuring 1 to 2 cm is still up for debate []. Furthermore, it is known that SWL is linked to insufficient fragment clearance from the lower pole []. Because it has a high success rate regardless of stone size, PNL is currently the standard treatment of choice for large stones (> 2 cm) and is also preferred by many urologists for the treatment of multiple renal stones or stones in the dependent parts of the kidney, such as the lower pole. However, the substantial risk of morbidity outweighs the advantage of high stone-free rate []. Miniaturized PNLs with smaller nephroscopes can reduce surgical morbidity. In the removal of renal stones, its efficiency is comparable to that of normal PNL. Miniaturized nephroscopes have calibers ranging from 4.8 to 22 F, with mini- PNL (14-22 F), ultramini-PNL (13 F), and micro-PNL (4.8 F) being the most used ones []. Flexible ureteroscopy, which was originally used to treat lower pole calyceal stones that were resistant to SWL, may be a less intrusive option to percutaneous treatments []. RIRS is becoming more popular as a main treatment for these stones, with greater stone-free rates than SWL and lower patient morbidity than PNL. Medical expenditures for treating stone disease involve direct and indirect costs. All medical expenses (e.g., prescriptions, hospitalization charges, all consumables and non-consumables required during surgery) are considered direct costs, whereas indirect costs include the patient's lost working days []. Healthcare systems and individuals nowadays desire shorter hospital stays, speedier return to work, maximum cost efficiency, and higher surgical success rates [,]. We compared the safety, efficacy, and cost-effectiveness of SWL, RIRS, and micro-PNL in this study to determine an individualized management for 1-2-cm stones in the lower pole calyces.
Ersan Oflar, Cennet Yildiz, Atilla Koyuncu, et al.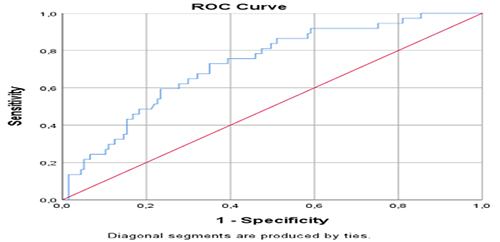 Erectile dysfunction (ED) has a negative influence on the quality of life of patients. Its prevalence shows an association with age, surpassing over 80% in men who are older than 80 years []. Although this disorder might have organic or psychological causes, the most common underlying pathology is abnormalities of the penile blood vessels. ED shares the same risk factors for cardiovascular disease (CVD) with similar underlying pathophysiological mechanisms []. The relationship between ED and CVD is bidirectional. Studies have shown ED as a predictor of CVD and the presence of CVD has been found to be associated with more severe forms of ED []. As such, current guidelines have recommended a detailed examination of ED patients in terms of CVD and risk factors []. This approach gives physicians a chance for risk mitigation, early diagnosis, and management of CVD. Insulin resistance (IR) coexists with the proatherogenic milieu and is a part of the atherogenic process []. By affecting systemic factors as well as intimal cells that are involved in atherosclerosis, IR seems to have an important role in plaque formation and progression of ED []. IR has been related to decreased nitric oxide production and vasodilatation both of which play a role in the pathogenesis of ED []. Men with ED have been shown to have higher levels of homeostatic model assessment insulin resistance (HOMA-IR) index which is the most popular method for the assessment of IR []. However, this test is relatively expensive and requires measurement of both serum insulin and glucose levels, which has led researchers to search for alternative methods. Triglyceride-glucose index (TyG index), the calculation of which is based on the measurements of serum triglyceride (TG) and glucose levels, is an easily obtainable and reliable marker for IR. The prognostic utility of the TyG index has been shown in acute coronary syndrome, lower extremity peripheral artery disease, heart failure, fatty liver disease, and stable coronary artery disease [-]. In the present study, we aimed to evaluate the TyG indexes of the ED patients and to find whether the TyG index has any predictive value in diagnosing ED.
Leyla Ozturk Sonmez, Hulya Vatansev, Gokhan Ecer, et al.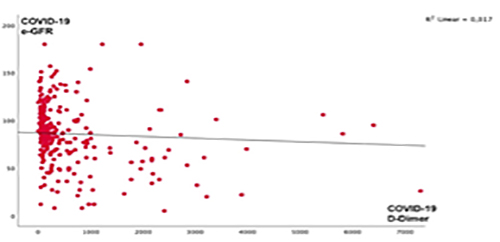 Coronaviruses mainly cause respiratory tract infections and gastrointestinal infections in humans []. World Health Organization (WHO) named the infectious pneumonia disease caused by SARSCoV- 2 virus as coronavirus disease 2019 (COVID-19) []. Hypoxia, dyspnea, acute respiratory distress syndrome (ARDS), septic shock, and multiple organ failure can also be seen in severe and critically ill COVID-19 cases []. But most of the SARS-CoV-2 cases remain asymptomatic after vaccination []. Many studies revealed that urinary system involvement is prevalent in patients infected with SARS-COV-2. Only limited number of studies showing a correlation between urinary biochemical parameters and SARSCOV- 2 are available in the literature [,]. Urinalysis covers quick, economical, useful, and noninvasive tests which provide detailed information on urine. These data can aid in the diagnosis of many diseases including urinary tract infections and can also be used in the monitorization of the outcomes of the treatment used for these diseases [,]. The effects of SARS-CoV-2 on urinary biochemical parameters were analyzed through comparing patient and control groups or based on the severity of the disease in previous studies but no research has yet been made both on the effect and change in urinary parameters in periods before, during, and 15 days after recovery from COVID-19 disease and also on the relationship between the change in these parameters and renal function tests and inflammatory markers. This study compared the parameters of urinalysis in periods before, during, and after recovery from pre-COVID-19 disease, and assessed the relationships between the changes in these parameters and renal functions.
Halil Ibrahim Ivelik, Ibrahim Guven Kartal, Ahmet Kocak, et al.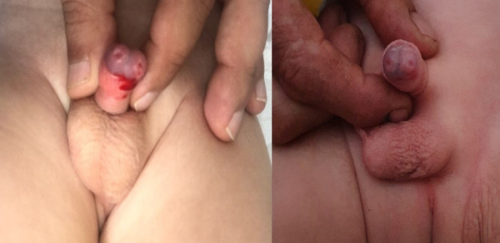 Diphallus, which is also known as diphallia, is a very rare congenital anomaly encountered nearly one in 5.5 million population. Since the first case was presented by Wecker in 1609, only 120 cases have been reported in the literature so far []. Vast majority of cases with diphallus were accompanied by various congenital anomalies mainly genitourinary and anorectal malformations [,]. Diphallus can be classified as glandular diphallus, bifid diphallus, and complete diphallia according to the anatomical structure involved []. During the 12th week of the fetal development, a circular part originated from ectoderm is seen at the periphery of the glans penis, which gives rise to prepuce (foreskin), a skin part which covers the glans. The corpus cavernosum and corpus spongiosum of the penis develop from the mesenchyme in the phallus. Bilateral labioscrotal swellings elongate toward each other and fuse in the midline to form the scrotum. The fusion site is seen as scrotal raphe []. Bilateral urethral folds fuse in the midline to form the corpus spongiosum and cavernous urethra between the 12th and 14th weeks of the fetal development. It is estimated that a fusion defect in genital tubercle during the fetal development period results in the condition termed diphallia []. Surgical treatment involves penile reconstruction and restoration of accompanying malformations after excision of the hypoplastic structure, however, the number of patients who have undergone surgical interventions is relatively low. In our case report, we aimed to present a patient with glandular diphallus and the follow-up process.
Ismail Emre Ergin, Aydemir Asdemir, Abuzer Ozturk, et al.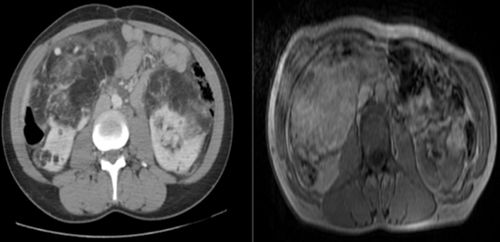 Angiomyolipomas (AMLs) are the most common benign mesenchymal tumors of the kidney, mainly composed of smooth muscle, dysmorphic vessels and mature adipose tissue, causing regional complications. They are responsible for 1-3% of kidney tumors with an incidence of 0.3-3% in general population and a female-to-male ratio of 2:1 []. Fifty to seventy percent of the cases consist of sporadic renal AMLs, characterized by a smaller size (average 1-4 cm), slower growth rate (0.19 cm/year), unilateral presentation, and an average age at disease onset ranging between 43 and 53 years at the time of diagnosis [,]. The remaining 30-50% of the cases are associated with genetic syndromes such as sporadic lymphangioleiomyomatosis (LAM) and tuberous sclerosis complex (TSC) []. The latter is due to an autosomal dominant mutation of the TSC1 (9q34) or TSC2 (16q13.3) genes, with activation of the mammalian target of rapamycin (mTOR) intracellular signaling pathway, associated with a multisystemic disease, greater number of lesions, higher growth rate (1.25 cm/year), lower mean age at diagnosis (18 years), and development of considerable complications during follow-up []. Factors determining the necessity and type of treatment include the presence of symptoms, an aneurysm >5 mm in the mass, the size of the lesion, its association with a disease complex (TS and LAM), kidney reserve, pregnancy plan, patient compliance, occupation, and activity status. Most (82-94%) of the patients with a mass lesion larger than 4 cm are symptomatic and 50-60% of them may bleed at any time. Major risk factors for bleeding are tumor size, grade of angiogenic component, and synchronous presence of TS [,]. Although selective arterial embolization is effective in controlling bleeding in emergency situations, research on its effectiveness in long-term treatment continues []. In addition to surgical and embolization treatment options, studies are continuing on drug treatments using mTOR inhibitors, which are thought to play a role in the pathogenesis, especially in the treatment of multiple, unresectable or metastatic AMLs accompanying disease complexes such as TS or LAM. The aim of our study is to evaluate the treatment with everolimus and selective arterial embolization, and subsequent follow-up period of a patient who applied to our clinic, and received the diagnosis of renal AML.
Catarina Laranjo Tinoco, Andreia Cardoso, Mariana Capinha, et al.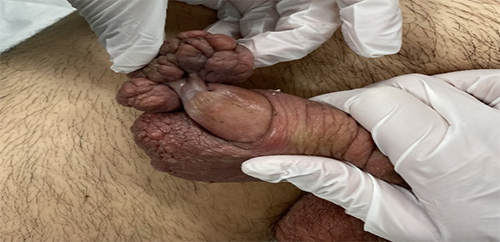 Patients with penile lesions often delay seeking medical consultation, leading to advanced presentation of penile malignancies and extensive lesions. The main challenge in diagnosing these lesions is distinguishing between benign and malignant conditions, which cannot be defined on clinical evaluation only. The main concern is diagnosing squamous cell carcinoma and its variants. Benign lesions, such as fibroepithelial polyps, are rare and a diagnosis of exclusion. Fibroepithelial polyps arise from the mesoderm. They can occur anywhere on the skin, more frequently in the groin, axilla, and eyelids. In the urological setting, they are more commonly found in the ureter. There are few reported cases of penile presentation, with the polyps typically appearing on the glans and associated with poor hygiene or urinary catheter use. The possibility of recurrence or malignant transformation has been reported inconsistently in the literature [,]. We present a case with a florid manifestation of fibroepithelial polyps.