Ekrem GUNER

Dear colleagues, I am honored to share with you the third issue of 2022 of the Grand Journal of Urology (Grand J Urol) with the contributions of many respected researchers and authors. Our journal has been abstracted/indexed in EBSCOhost, J-Gate, Index Copernicus International (World of Journals List), EuroPub, SciLit, ResearchGate, ScienceGate and Google Scholar international databases. As of these achievements, the Grand Journal of Urology (GJU) has taken its place among the journals indexed by international databases. Grand Journal of Urology (GJU) aims to carry written and visual scientific urology studies to academic platforms and to make significant contributions to the science of urology. In this issue of our journal, there are many valuable articles under the subheadings of Andrology, General Urology, Laparoscopic and Robotic Surgery, Female Urology, and Urological Oncology. I hope that these carefully prepared articles will make important contributions to valuable readers, researchers and the urology literature. On this occasion, I would like to express my heartfelt gratitude to our authors who have contributed to our journal with their articles, to our reviewers who have meticulously evaluate the articles. Respectfully yours September 2022 Assoc. Prof. Ekrem GUNER, MD Editor-in-Chief
Yusuf Kasap, Muhammed Emin Polat, Kazim Ceviz, et al.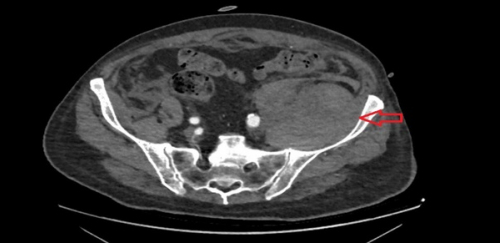 COVID-19 is a widespread and life-threatening viral infection that frequently appears with respiratory symptoms and fever []. It can also affect other systems, such as cardiovascular, hepatobiliary, or hematologic systems [,]. Retroperitoneal bleeding (RPB) is another life-threatening condition that can manifest due to trauma, vascular lesions, tumors, surgical procedures, anticoagulant treatment, or idiopathic risk factors [,]. The hypercoagulable state occurs secondary to the effect of the virus or increased cytokine secretion []. Therefore, anticoagulant treatments are recommended widely in COVID-19 patients, and the risk of bleeding concomitantly increases [,]. Due to the thromboembolic complications and the bleeding risk of the viral infection, the predictability of bleeding is becoming an important issue requiring safe use of anticoagulants []. To predict and prevent this complication, we analyzed the clinical and laboratory results of 54 RPB cases among anticoagulated COVID-19 inpatients. We aimed both to describe incidence, morbidity, and mortality rates related to RPB, also search for factors that affect bleeding to improve clinicians" knowledge.
Ferhat Yakup Suceken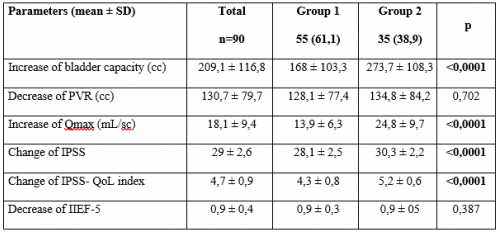 Bladder outlet obstruction (BOO) due to benign prostatic hyperplasia (BPH) is one of the most common causes of lower urinary tract symptoms (LUTS) in men. Transurethral resection of the prostate (TUR-P) is the standard surgical technique to be applied in patients with a prostate volume of 30-80 cc []. According to the current guidelines, open simple prostatectomy (OSP), holmium laser enucleation of the prostate (HoLEP), and bipolar enucleation are recommended techniques in the presence of enlarged adenoma tissue (>80 cc), and short-term and long-term functional outcomes of these methods are reported to be comparable []. The main limitations of OSP are its relatively higher morbidity and blood transfusion rates (7-14%) [,], while those of the HoLEP technique is its longer learning curve, unavailability in some centers []. The bipolar enucleation technique shows a similar safety profile to HoLEP [,]. In addition to these techniques, Mariano et al. described the laparoscopic simple prostatectomy (LSP) in 2002 and Sotelo et al. described robot-assisted simple prostatectomy (RASP) in 2008 [,]. LSP and RASP, which are classified as minimally invasive simple prostatectomy (MISP) techniques, have been found to provide similar functional outcomes, as well as having common advantages compared to the open surgery in terms of blood loss and hospital stay. LSP is one of the main alternatives to OSP, but it has some disadvantages such as its higher cost, requirement of special equipment, and their inapplicability in every clinic []. This study aims to compare the perioperative and postoperative results and long-term functional outcomes of the OSP and LSP operations performed by a single surgeon in our clinic.
Emre Salabas, Huseyin Cihan Demirel, Ozlem Ton Eryilmaz
Prostate cancer is the most common malignancy of men except skin cancers and causes significant mortality and morbidity []. There is a wide variety of therapy options for prostate cancer ranging from conservative managements like watchful waiting and active surveillance to definitive treatments such as radical prostatectomy, radiotherapy and brachytherapy []. Gleason score (GS) classification of prostate biopsy specimens is a vital part of management algorithm [,]. GS is especially important for choosing between active surveillance and definitive treatment options like surgery or radiotherapy []. However, upgrade of Gleason scores has been reported in subjects who underwent radical prostatectomy following an active surveillance protocol period. The discrepancies between pathologic upgrade rates ranged between 14-55% in different series [-]. Furthermore, this pathologic upgrade rate has been increasing in recent years []. This phenomenon may lead to either overtreatment (surgery or radiotherapy) of subjects as a result of overgrading of needle biopsy specimens or under treatment (active surveillance) of them following an understaged biopsy []. Gleason grading system was modified by the grading group classification in order to improve identification of low-grade cancers [,]. The 2014 International Society of Urological Pathology (ISUP) grading system classifies Gleason grades into 5 tiers with corresponding Gleason scores as follows: Grade group 1 (ISUP GG 1): GS< 6; GG 2: GS 3+4=7 ; GG 3: GS 4+3=7; GG 4: GS 4 and GG 5: GS 9 and 10. The stratification of GS 7 into two separate parts with different survival outcomes and treatment requirements as well as comforting patients by naming GS< 6 cancers as GG 1 are important aspects of this classification system []. The primary aim of this study is the determination of ISUP GG upgrading prevalence and its risk factors in a group of cases who underwent prostate needle biopsy or radical prostatectomy. Investigation of prostate cancer grade group upgrading using a relatively recent system (ISUP 14 GG) encompassing all risk groups is the essence of this article.
Fidan Aslanova, Ece Bahceci, Keziban Dogan, et al.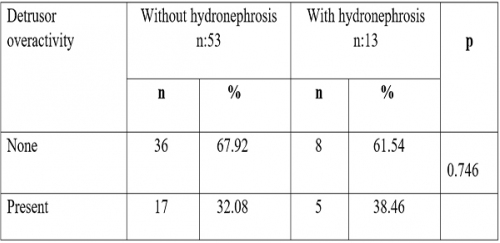 Pelvic organ prolapse (POP) is defined as the descent of the pelvic organs into or out of the vagina. It can be seen in about half of women giving birth. It causes urogenital symptoms and sexual dysfunction. The main reason is the loss of pelvic support []. In gynecology, hydronephrosis is present in many diseases, including severe genital mechanical defects, endometriosis, and postoperative iatrogenic lesions. The prevalence of hydronephrosis is shown to be significantly related to the severity of prolapse [,]. In this study, we aimed to investigate the frequency of pelvic hydronephrosis and the effect of hydronephrosis diagnosed by ultrasonography on urodynamic parameters in patients with symptomatic POP.
Hatice Zoroglu, Fikret Erdemir, Nejmiye Akkus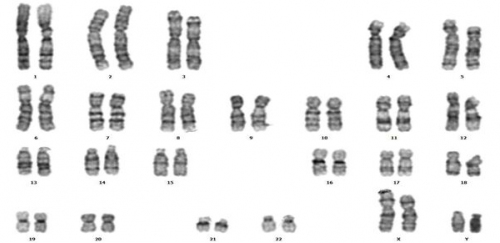 The incidence of infertility, which is the inability to achieve conception at the end of one year despite regular attempts at unprotected sexual intercourse, ranges from 7% to 15% []. Infertility is an important problem that causes loss of selfconfidence, mental disorders, sexual dysfunction and social withdrawal in couples. Male factor infertility is present in approximately half of all infertile couples []. In the etiology of male infertility, several congenital or acquired factors such as urogenital abnormalities, varicocele, undescended testis, infections of the genital tract, metabolic and endocrine disorders, testicular failure, immunologic problems, cancer, drugs, radiotherapy, altered lifestyle, and genetic factors have been reported []. Apparently, genetic factors, especially in oligozoospermic and azoospermic patients, have been increasingly investigated in recent years. Genetic examination in infertility is important in terms of revealing the etiological factor and predicting the pregnancy potential, and the need for future counseling. Klinefelter syndrome (KS), known as 47XXY, can be seen in up to 10% of the cases with nonobstructive azoospermia and in one in 500-1000 live births []. Various variants of Klinefelter syndrome have been reported. Here, a case with a genetic diagnosis of 48XXYY, which is a very rare variant of Klinefelter syndrome, will be presented.
Erhan Ates, Hakan Gorkem Kazici, Gokhan Sahin, et al.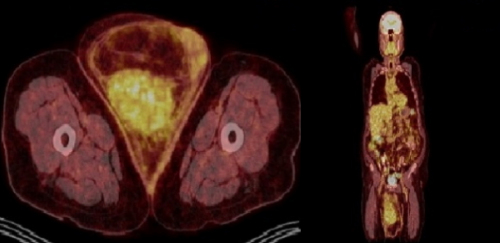 Liposarcomas, soft tissue malignancies originating from mesodermal tissues, account for around 20% of all sarcomas. They are generally seen in the retroperitoneal area and extremities []. Approximately 12% of liposarcomas originate from the spermatic cord, testicular tunica and epididymis and are called paratesticular liposarcomas (PLSs) []. When the tumor diameter exceeds 10 cm, the PLS is classified as "giant" []. According to a recent meta-analysis, there are 265 PLS cases in the literature, and only a few cases of giant PLS []. Due to its rarity, there is no standard guideline regarding the incidence, diagnosis, recurrence and treatment of PLS []. In this case report, we aimed to present our treatment approach for two cases of giant LPS.
Murat Yavuz Koparal, Ugur Aydin, Burak Elmas, et al.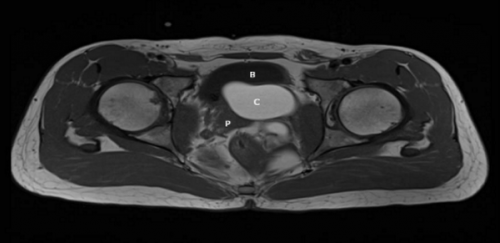 Zinner syndrome is a rarely seen congenital anomaly characterized by developmental defects of mesonephric (Wolffian) duct. The classic triad includes ejaculatory duct obstruction, an ipsilateral seminal vesicle cyst, and an ipsilateral renal agenesis. It was first described by A. Zinner in 1914 []. Bladder neck, half of the trigone, urethra, vas deferens, seminal vesicles, and epididymis in men develop from the distal mesonephric duct under the influence of testosterone and anti- Müllerian hormone. During embryogenesis, developmental disorders of the distal mesonephric duct affect the formation of the ipsilateral kidney, ureter, vas deferens, and seminal vesicles. The ejaculatory duct obstruction results in cystic dilatation of seminal vesicles because of the accumulation, and retention of seminal fluid. Patients may present with genitourinary system complaints, or they may be completely asymptomatic and detected incidentally. In this paper, we report a case of a 32-yearold male patient who presented with acute urinary retention, and diagnosed as Zinner syndrome based on radiological examinations.
Binhan Kagan Aktas, Ozdem Levent Ozdal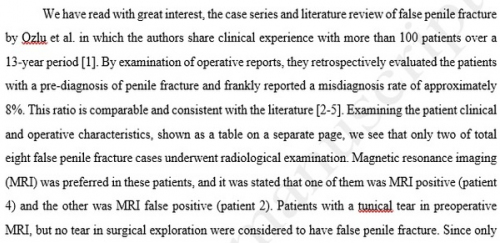 Dear editor, We have read with great interest, the case series and literature review of false penile fracture by Ozlu et al. in which the authors share clinical experience with more than 100 patients over a 13-year period []. By examination of operative reports, they retrospectively evaluated the patients with a pre-diagnosis of penile fracture and frankly reported a misdiagnosis rate of approximately 8%. This ratio is comparable and consistent with the literature [-]. Examining the patient clinical and operative characteristics, shown as a table on a separate page, we see that only two of total eight false penile fracture cases underwent radiological examination. Magnetic resonance imaging (MRI) was preferred in these patients, and it was stated that one of them was MRI positive (patient 4) and the other was MRI false positive (patient 2). Patients with a tunical tear in preoperative MRI, but no tear in surgical exploration were considered to have false penile fracture. Since only ligation procedures were performed on both MRI positive and MRI false positive patients, we think that such a distinction is confusing and not necessary. Perhaps ultrasonography could be preferred for the remaining six patients for whom radiological examination was not performed, due to its easy accessibility and provide medical recording. However, an ideal radiographic imaging modality is still lacking so far []. Although there are some clinical differences between false and true penile fractures, the two conditions cannot be clearly distinguished from each other either clinically or radiologically []. Consequently, we would like to encourage Ozlu et al., on a very diligently written and quite informative article that briefly summarizes the studies that have already been published and the approach to the patient with penile fracture. Urologists somehow have to base the definitive diagnosis of penile fracture on surgical exploration in order to eliminate serious long-term potential problems of an overlooked tunical tear. Sincerely yours. Ethics Committee Approval: This article does not contain any studies with human participants performed by the author. Authorship Contributions: Any contribution was not made by any individual not listed as an author. Concept - B.K.A., O.L.O.; Design - B.K.A., O.L.O.; Supervision - B.K.A., O.L.O.; Resources - B.K.A., O.L.O.; Materials - B.K.A., O.L.O.; Data Collection and/or Processing - B.K.A., O.L.O.; Analysis and/ or Interpretation - B.K.A., O.L.O.; Literature Search - B.K.A., O.L.O.; Writing - B.K.A., O.L.O.; Critical Review - B.K.A., O.L.O. Conflict of Interest: The author declares that he has no conflict of interest. Financial Disclosure: No grants or funding was provided for this study.