Ekrem GUNER

Dear colleagues, I am honored to share with you the third issue of 2023 (volume 3, issue 3) of the Grand Journal of Urology (Grand J Urol) with the contributions of many respected researchers and authors. Grand Journal of Urology (GJU) aims to carry written and visual scientific urology studies to academic platforms and to make significant contributions to the science of urology. Our journal has been abstracted/indexed in Tubitak Ulakbim TR Index, DOAJ, EBSCOhost, J-Gate, Index Copernicus International, EuroPub, SciLit, ResearchGate, ScienceGate and Google Scholar international databases. As of these achievements, the Grand Journal of Urology (GJU) has taken its place among the journals indexed by national and international databases. In this issue of our journal, there are many valuable articles under the subheadings of Andrology, rological Oncology, Endourology, Urolithiasis, Pediatric Urology, Functional Urology and General Urology. I hope that these carefully prepared articles will make important contributions to valuable readers, researchers and the urology literature. On this occasion, I would like to express my heartfelt gratitude to our authors who have contributed to our journal with their articles, to our reviewers who have meticulously evaluate the articles. Respectfully yours September 2023 Assoc. Prof. Ekrem GUNER, MD Editor-in-Chief
Hulya Yilmaz Baser, Kursat Kucuker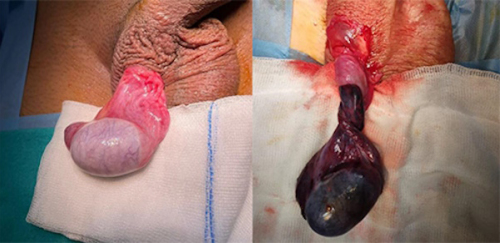 Testicular torsion is defined as twisting of the testis along the spermatic cord resulting in venous congestion and poor arterial supply eventually leading to ischemia []. As a urological emergency, it is one of the causes of acute scrotum in all age groups. The overall incidence of testicular torsion in males is 2.02 to 21.76 per 100,000 population [,]. Differentiation of testicular torsion from other acute scrotal emergencies is important in terms of fertility and organ preservation. It is most often confused with epididymitis. An abnormal (horizontal) position of the testis is more common in testicular torsion than in epididymitis []. Searching for the absence of cremasteric reflex is a simple diagnostic test for testicular torsion with 100% sensitivity and 66% specificity [,]. Elevation of the scrotum (testes) may reduce symptoms in epididymitis, but not in testicular torsion. Determining the cause of acute scrotum based on history and physical examination alone is not easy []. Although scrotal color Doppler ultrasonography (CDU) is helpful in diagnosis, the possibility of false negatives and variable CDU findings pose a problem in clinical practice []. In case of suspected testicular torsion, manual detorsion of the testis is performed without anesthesia and should be attempted in all patients if possible []. As long as the pain does not increase or there is no obvious resistance, it should initially be done by turning the testicles outward as if opening a book. Success is defined as the immediate resolution of all symptoms and disappearance of abnormal findings on physical examination []. In case of failed attempts at detorsion, emergency surgical treatment is required. Although success rates related to manual testicular detorsion ranging between 61.5%, and 91% have been reported in the literature, residual torsion has been demonstrated in 27-32% of the patients who had undergone manual detorsion [-]. With this study, as a contribution to the literature, we aimed to investigate the effectiveness and success rates of manual detorsion in the light of our clinical experience.
Serkan Arslan, Mustafa Azizoglu, Tahsin Onat Kamci, et al.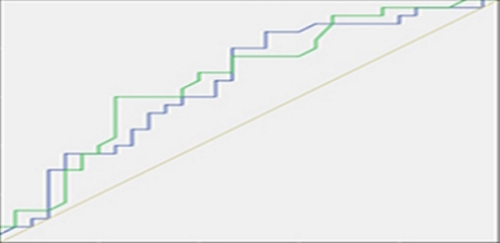 The incidence of urolithiasis in children has increased, ranging from 0.1 to 5% []. There are a variety of metabolic, environmental, and dietary variables that may lead to the formation of urinary stones in children [,]. While hematuria, dysuria, and discomfort are the usual symptoms of urolithiasis in older children, younger children may have nonspecific symptoms including irritability []. Often the best treatment alternative for urolithiasis is chosen depending on the size, location, composition of the stone and anatomy of the urinary system. Along with the advancement of endoscopic technology, the primary surgical approach for the management of urinary stones has also changed over time, moving from open surgery to less invasive techniques [,]. In extracorporeal shock wave lithotripsy (ESWL), external shock waves are focused directly on the stone. Both kidney and ureteral stones may be treated using this approach. On the other hand, many ureterorenoscopy-guided (URS) contact lithotripsy methods, including laser, ultrasound, and pneumatic lithotripsy may be used for this purpose. When imaging fails to facilitate the procedure or cannot be done during ESWL in children with stones larger than 4 mm, DJ stent insertion is primarily employed [,]. The use of DJ stents after URS therapy is still debatable. In this research, we have aimed to investigate whether the absolute WBC, neutrophil-lymphocyte ratio (NLR), absolute monocyte counts, and other laboratory markers may help determine the need for double-J stent insertion in cases of ureteral stones.
Âdem Utlu, Sibel Guclu Utlu, Tugay Aksakalli, et al.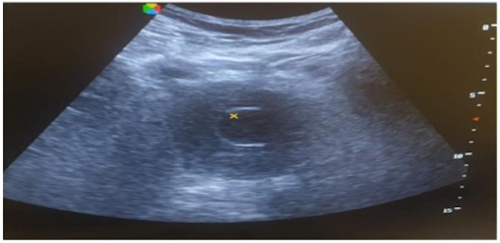 Indwelling Foley catheters, filled with approximately 10 cc of isotonic saline solution, are commonly used in patients for various reasons. To remove these catheters, the saline solution in the balloon needs to be drained. However, in rare cases, it may not be possible to deflate the balloon, which is a known complication of Foley catheterization. It is estimated that 15% to 20% of patients in the hospital have a TU catheter []. The failure of a Foley catheter balloon to deflate can be caused by a faulty valve mechanism, blockage of the inflation channel, or crystallization of the fluid inside the balloon []. After multiple unsuccessful attempts, patients usually seek assistance from urologists in an agitated state. Over the years, various techniques and methods have been reported to address this issue, including over-inflation of the balloon, injection of ether or chloroform into the inflation channel, and insertion of a guidewire into the inflation channel [-]. Additionally, there are techniques such as needle puncture of the balloon under ultrasound guidance [,-]. When the balloon does not deflate, the initial approach often involves over-inflating the balloon until it bursts. However, a study has shown that in 83% of cases where the balloon burst, significant fragments were left behind []. Chemical agents like ether and chloroform are no longer used to deflate the balloon as they can cause damage to the bladder mucosa. Another method that can be used in a patient with an indwelling catheter that cannot be removed, is to cut off the path to the balloon. In these cases, the deflation of the balloon is expected through the backflow of the saline. If this method is not successful, that means a problem in the valve part of the balloon, it is necessary to consider invasive procedures, such as needle puncture of the balloon under suprapubic/transrectal ultrasound guidance or laser puncture of the balloon under cystoscopy. The goal of successful management is to remove the catheter in a safe manner as soon as possible, alleviate patient agitation, and minimize complications. The aim of our study is to contribute to the literature by identifying the most reliable and least complication-prone techniques for managing patients who have indwelling catheters that cannot be removed, and have undergone various attempted methods.
Ferhat Yakup Suceken, Murat Beyatli, Resul Sobay, et al.
The world population is aging, and it is estimated that the number of people over 60 years will exceed 2 billion in the next 30 years []. Age-related cardiovascular, respiratory, and nervous system changes, coupled with comorbidities, can lead to an increased incidence of surgical complications and medical problems [,]. This complicates the treatment of urinary system stone disease in the elderly patient population. Considering that the lifetime risk of urinary system stone disease is 10%, it seems that safe and effective methods with low complication rates will increasingly gain popularity in the geriatric population with the increasing human lifespan []. Retrograde intrarenal surgery (RIRS), an alternative method to shock wave lithotripsy (SWL) and percutaneous nephrolithotomy (PNL) in the treatment of stones located in the renal pelvis and kidney, offers better lithotripsy efficacy and shorter operation times with the advances in technology. Because of its advantages, RIRS is considered an effective and safe method for the elderly patient population []. This method results in a lower pain score and shorter recovery time without the need for an incision; therefore, it seems to be a suitable option for elderly and risky patient populations. In this study, we divided patients with kidney stones who underwent RIRS into three different age categories to investigate whether there was a difference in the safety and efficacy of this method according to age.
Emre Tokuc, Nazim Yildiz, Zulfu Sertkaya, et al.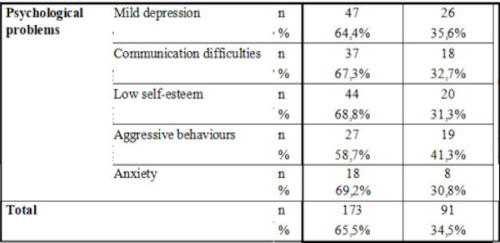 Circumcision is the most common surgical procedure in the world, which has been practiced since ancient times, both traditionally and religiously in various societies, and also has medical indications []. The World Health Organization (WHO) reported that 30% of men worldwide are circumcised []. The positive and negative psychological effects of such a frequently performed surgical procedure on patients and some urological complications have been the subject of discussion in the literature for many years. Psychologically, the social anxiety of being uncircumcised in a mostly circumcised society can affect men. In this respect, circumcision can be seen as a procedure that can provide positive psychological contributions such as reinforcing the feeling of "being a man", improving body image, and being accepted in society [,]. On the other hand, the fact that this age group's ability to decide on its own body is debatable, as it is a procedure that is mostly applied in infancy and childhood, and that parents are often decisive instead of the child, increases the ethical debates about circumcision [,]. On the urological aspect, it is an undeniable fact that the circumcision procedure reduces the frequency of urinary tract infections and sexually transmitted infections. In addition, it reduces the risk of cervical cancer in partner women by reducing the incidence of penile human papillomavirus (HPV) [,]. In addition, it significantly reduces the risk of penile cancer and eliminates preputial pathologies such as phimosis []. However, the sexual effects of circumcision are a popular topic of discussion in the literature. The aim of this study is to evaluate people's perspectives on their circumcision, to measure their satisfaction, and to investigate whether there is a connection with circumcision if they have psychological and/or urological problems.
Cigdem Cinar, Ali Ayranci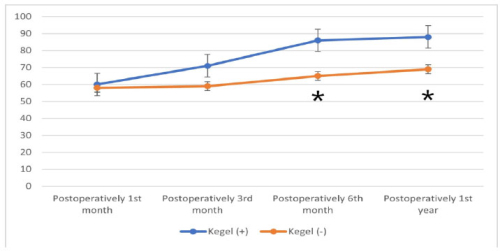 Prostate cancer is the most diagnosed cancer in men, and surgery has a pivotal role in the treatment of prostate cancer. Although radical prostatectomy surgery has satisfactory oncological results, the possibility of encountering problems such as urethral stricture, erectile dysfunction and urinary incontinence in the postoperative period causes patients to be suspicious of the surgery []. Since the definition of urinary incontinence after radical prostatectomy is not the same in different clinics, the rates of urinary incontinence after radical prostatectomy have been found in a wide range in studies []. Even, Peyromaure et al. found that postoperative urinary incontinence rates could reach 30% []. Previous studies have shown that urinary incontinence after radical prostatectomy may cause more hospital admissions, more drug use, increased costs in the healthcare system, and social isolation of patients in the postoperative period []. Kegel exercises are defined to strengthen the muscles of pelvic floor, involving rapid and sustained voluntary contractions of the pelvic floor muscles to improve sexual function and urinary incontinence []. Studies examining the effect of Kegel exercises on urinary incontinence after radical prostatectomy have obtained conflicting results. Lilli and colleagues analyzed 90 patients" data who underwent radical prostatectomy, and authors concluded that pelvis floor muscles exercises did not significantly improve urinary incontinence recovery following radical prostatectomy []. In contrast, Ribeiro et al. found that Kegel exercises associated with significant improvements in urinary incontinence severity after radical prostatectomy []. Although previous studies have examined the effect of postoperative pelvic floor exercises on post-radical incontinence, the number of studies examining the effect of preoperative Kegel exercises on continence after radical prostatectomy is limited. In this study, we aimed to reveal the effect of preoperative Kegel exercises on early period continence rates after open radical prostatectomy.
Mahmut Ulubay, Aysenur Kaya, Arife Ahsen Kaplan, et al.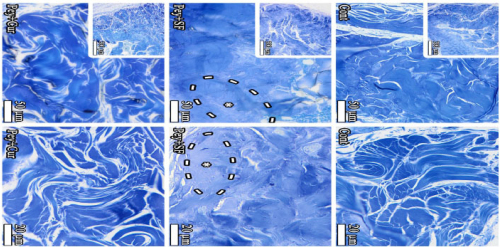 Peyronie's disease (PD) is a condition that progresses with fibrosis in the tunica albuginea (TA) layer of the penis and therefore causes penile pain, curvature, and sexual dysfunction. Despite being frequently seen, its aetiology and pathophysiology are not yet fully understood [,]. Factors such as trauma, frequency of sexual intercourse, diabetes mellitus, Dupuytren's contracture, family history, gout, plantar facial contracture, radical prostatectomy, tympanosclerosis, Paget's disease, beta-blocker use, advancing age, genetic predisposition, smoking, hypertension, and tissue ischemia may play a role in the aetiology [,,]. The most widely accepted theory involves abnormal collagen and glycosaminoglycan deposition in the TA after inflammation and fibroblast proliferation caused by repetitive microtraumas. Abnormal extracellular matrix production also occurs through increased myofibroblast activity and upregulation of tissue inhibitors of matrix metalloproteinases []. The prevalence of PD ranges from 3.2% to 8.9%, with patients being typically aged 50-60 years [5]. PD includes two phases, acute (inflammatory) and chronic (stable). The acute inflammatory phase usually lasts 6-18 months and is characterized by painful erections, the formation of a palpable nodule or plaque in the tunica of the penis and penile curvature. When the lesions stabilize, the chronic phase begins and the penile deformity stabilizes, inflammation decreases, pain improves, and erectile dysfunction symptoms develop []. Research has reported that the course of the disease remains stable in 47% of patients and resolves spontaneously in 13%. However, the manifestation worsens in 40% of patients, and these require active treatment []. Despite the many alternative treatments (antifibrotic, antiinflammatory, antioxidant drugs, various vitamins, amino acids, etc.) available in addition to surgical treatment since Francois de la Peyronie's definition of PD in 1743, no entirely satisfactory therapeutic option has still been discovered []. Curcumin is a yellow-orange substance obtained from the roots of the plant turmeric. It has occupied an important place in Asia for thousands of years, especially in Indian medicine, and has been the focus of scientific studies for the last 20 years. Studies have shown that curcumin possesses strong antioxidant, anti-inflammatory, antiapoptotic and antidiabetic properties. In addition to its antifibrotic property, it has also been reported to exhibit an antiproliferative effect on fibroblasts. Studies have also observed the protective effects of curcumin on pulmonary, cardiac, and renal fibrosis []. Considering that PD is associated with diabetes mellitus at a rate of 18-33%, the antidiabetic effect of curcumin suggests that it may be an important substance in terms of the treatment of the disease []. In light of this information, curcumin is worthy of note as a potential therapeutic agent capable of use in the treatment of PD. The purpose of this study was aimed to examine the efficacy of curcumin against abnormal fibrous tissue production in the TA using stereological, histopathological, and immunohistochemical methods. We think that the results obtained will be useful for the development of novel medical methods for the reduction or prevention of penile fibromatosis. This is the first experimental study in the literature to investigate the effects of curcumin in an experimental rat PD model.
Selim Tas, Sahin Kilic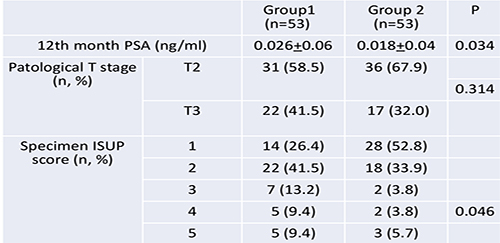 Prostate cancer is a prevalent disease among men, and surgical intervention is often recommended for its management []. One of the surgical techniques gaining popularity is Retziussparing robot-assisted radical prostatectomy (RS-RARP). This approach aims to minimize damage to the surrounding structures and improve functional postoperative outcomes []. RS-RARP is a technique that involves the robot-assisted removal of the prostate gland while preserving the Retzius space. This approach aims to minimize damage to the surrounding nerves and tissues, leading to improved functional outcomes [,]. Prostate size is a special condition that requires surgical experience during the removal of the prostate in patients who underwent RARP []. There are limited studies on the impact of prostate size on post-RS-RARP oncological and functional outcomes. In this study, we aimed to examine the influence of prostate weight on post-RS-RARP oncological and functional outcomes [,].
Kamil Gokhan Seker, Feyzi Arda Atar, Alev Kural, et al.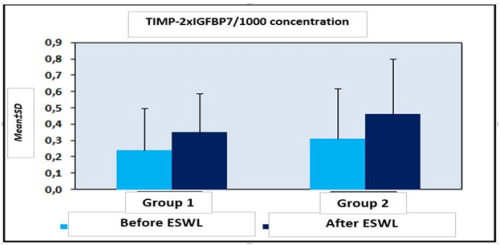 Extracorporeal shock wave lithotripsy (ESWL) has been used successfully for many years in the minimally invasive treatment of upper urinary tract stone disease. Although ESWL is considered a minimally invasive treatment, it has been shown to cause various short- and long-term structural and functional changes in the kidney. Short-term renal damage may be due to vascular or tubular mechanical trauma or oxidative stress due to free radical formation causing ischemia-reperfusion injury in the renal capillary system. ESWL may cause acute kidney injury (AKI) by causing peritubular vessel rupture, ischemia, hemorrhage, inflammation and hemodynamic disturbance [,]. Potential renal injury after ESWL has been studied using many biochemical parameters. Markers such as serum creatinine and lactate dehydrogenase have been studied in the blood, and markers such as microalbumin, albumin and β2-microglobulin (β2-MG) have been studied in the urine to indicate tubular damage []. However, there is no clear biomarker that can provide clinicians with an early and accurate indication of kidney injury following ESWL. Recently, several new biomarkers such as neutrophil gelatinase-associated lipocalin (NGAL), cystatin C, interleukin-18 (IL-18), kidney injury molecule-1 (KIM-1) have been studied in the detection of kidney injury after ESWL. Some of these biomarkers are indeed superior to others for early diagnosis. However, follow-up studies have shown that most of them are not specific for AKI [,]. In recent years, new potential biomarkers for the early detection of AKI have been identified. The most prominent are tissue inhibitor of metalloproteinase-2 (TIMP-2) and insulinlike growth factor binding protein 7 (IGFBP7). Both molecules have been shown to prevent renal tubular cell division in the G1 phase of the cell cycle by arresting the G1-S cell cycle in sepsis and ischemia. Because of all these proven effects, TIMP- 2 and IGFBP7 are currently considered to be two promising biomarkers for the identification of AKI [,]. Several strategies with different treatment protocols have been used to improve the efficacy of ESWL in the treatment of urolithiasis and to minimise renal damage []. In porcine models, a stepwise increase in voltage has been shown to significantly reduce the size of renal parenchymal haemorrhagic lesions []. To date, clinical evidence in humans has only come from studies with small numbers of participants and/or suboptimal study design. Despite these negative factors, these studies suggest that stepwise ramping ESWL treatment is safe and may even provide a protective effect compared to conventional fixed voltage [-]. However, there are conflicting data regarding the effect of different voltage applications in ESWL treatment on clinical efficacy and complications [-]. In our study, urinary TIMP-2 and IGFBP7, which are used to determine AKI, are investigated for the first time in ESWL treatment. In our study, we aimed to compare the effect of ESWL treatment on AKI in patients undergoing ESWL in different treatment protocols using biomarkers of AKI and to compare these two treatment protocols in terms of success and complications.
Sebnem Izmir Guner, Deniz Noyan Ozlu, Ekrem Guner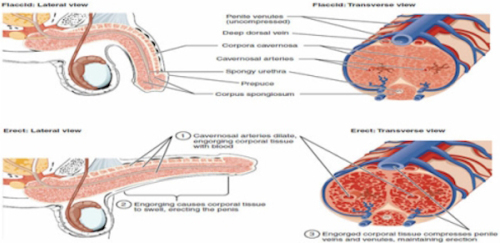 A 50-year-old male patient was admitted to our emergency department with the complaint of prolonged erection lasting for about three hours without sexual stimulation. As understood from the patient's anamnesis and medical file, he applied to the emergency department with the complaints of fever, lassitude, and fatigability in 2015. His hemogram parameters on admission were: WBC:18.2 x109/L, Hgb: 12.9 g/dl, Htc: 39%, PLT: 379 x103 K/μL. Besides, his lactate dehydrogenase (LDH) and uric acid values were elevated were found to be high, and he was referred to the hematology clinic with a preliminary diagnosis of leukemia. In the physical examination, any remarkable finding other than splenomegaly was not detected. Microscopic examination of his peripheral blood smear revealed the presence of platelet deformities, megakaryocyte fragments, normocytic normochromic erythrocytes, all cells of myeloid series, markedly increased number of basophils and eosinophils, myelocytes, metamyelocytes, rods and fragmented neutrophils. It was learned from his medical documents that the patient received the diagnosis of "CML in chronic phase" based on the histopathologic examination reports of the bone marrow aspiration and biopsy specimens obtained for definitive diagnosis, Karyotype analysis revealed the presence of Philadelphia (Ph*) chromosome, and BCR/ABL chimeric gene was detected using PCR and FISH techniques. The patient diagnosed with CML received initial treatment with single daily oral doses of a firstgeneration tyrosine kinase inhibitor (imatinib 400 mg cap.) and allopurinol (300 mg tb) and he was called for outpatient control. The patient, who claimed that severe muscle and bone pain developed during the imatinib treatment stopped taking the drug by his own decision, so hematology physician started to give him second generation tyrosine kinase inhibitors in turn (nilotinib and dasatinib). However, it was observed that these drugs also caused severe pancytopenia, and treatment with single daily oral doses of 400 mg imatinib was started again. Still, it was noted that the patient used the drug irregularly, stopped using the drug from time to time and did not routinely attend the hematology outpatient clinics for control. The patient stated that he had been prescribed trazodone HCl (50 mg/d PO) in another center due to the anxiety he had experienced and had taken the first dose the previous evening. The patient said that he had never experienced a spontaneously prolonged erection before and thought that the cause of the problem developed was related to trazodone tablet he had used for the first time the previous evening. From the anamnesis of the patient, it was learned that he did not use any drugs containing phosphodiesterase-5 (PDE-5) inhibitors. The results of the hemogram test performed when the patient applied to our emergency department were as follows; WBC: 22.2 x109/L, Hgb: 10.9 g/dl, Htc: 30%, and PLT: 579 x103 K/μL. The patient was admitted to the urology clinic for examination and treatment because of the sustained rigid erection. As the first intervention performed in the urology clinic, an 18G butterfly needle was inserted laterally into both penile corpora cavernosa of the patient to aspirate cavernosal blood. When the erection persisted despite aspiration, intracavernosal irrigation with 0.90% w/v saline was performed, but when detumescence could not be achieved, intracavernosal injection of 2 ml 1/100,000 adrenaline was performed. After the procedure, detumescence was ensured, a CobanTM self-adherent bandage was wrapped around the penis to prevent development of hematoma. The patient was monitorized for 4 hours, and then discharged. Priapism did not occur again during the follow-up period. Chronic Myeloid Leukemia (CML) is a stem cell disease manifested by abnormal clonal proliferation of myeloid precursor cells and accounts for 15% of adult leukemias. Its incidence is 1-2/100,000. It is more common in men (male/ female: 1.3/1) and its incidence increases between the ages of 40-60. CML was the first disease in humans to be associated with a specific chromosomal abnormality. In more than 90% of CML cases, the Philadelphia (Ph*) chromosome is detected by cytogenetic analysis [,]. Symptoms associated with anemia (such as weakness, fatigue, effort intolerance, decreased functional capacity), splenomegaly (abdominal swelling and pain, rapid satiety due to pressure of enlarged spleen on the stomach) hypermetabolic state (fever, anorexia, weight loss, gout), platelet dysfunction (hemorrhage, ecchymosis, hematoma, thromboembolic events, retinal hemorrhage), hyperleukocytosis and hyperviscosity-related findings (tinnitus, stupor, visual impairment, dyspnea, priapism and cerebrovacular events), thrombocytosis, hypereosinophilia, increase in basophil counts, anemia, elevated LDH and uric acid levels can be seen in CML. Physical examination reveals the presence of splenomegaly in 50-90%, and hepatomegaly in 10- 20% of CML patients [,]. Priapism is an uncontrolled, prolonged, and sustained erection developing without sexual stimulation and cannot be terminated by ejaculation, (Figure 1). This is a true urological emergency and early intervention is crucial for functional recovery. It has ischemic, non-ischemic and intermittent subtypes. Although often idiopathic priapism is seen, many etiologic factors of priapism are known including hematological diseases (ie. sickle cell anemia, thalassemia, leukemia, multiple myeloma), toxins (ie. scorpion, spider, malaria), metabolic diseases (ie. Fabry disease, amyloidosis), neurogenic diseases (ie. brain tumors, cerebrovascular diseases, spinal cord injury), metastatic or local invasion of tumors (ie. prostate, urethra, testis, lung) and drugs (PDE-5 inhibitors, vasoactive erectile agents such as papaverine, alpha adrenergic receptor agonists, heparin, warfarin, antidepressants, antipsychotics, antihypertensives, testosterone, alcohol, and cocaine) []. Figure 1. Top: Flask penis, Bottom: Erect penis Corporeal relaxation exerts external pressure on the emissary veins emerging from the tunica albuginea, causing blood to remain in the penis resulting in an erection. https://storymd.com/journal/mpq5pdku6j-penis/page/elqozasy75pq-penis Imatinib mesylate is the first selective tyrosine kinase inhibitor (TKI) to target the BCR-ABL protein. While nilotinib and dasatinib are second generation tyrosine kinase inhibitors used in the treatment of imatinib-resistant CML. Muscle cramps, joint, muscle or bone pain, which are common imatinib-related side effects, may also occur during imatinib treatment or after its discontinuation []. Trazodone HCl is an antidepressant used in the treatment of symptoms caused by anxiety and depression such as anxiety, appetite disorder, insomnia, and attention deficit. Serotonin reuptake inhibitors (SSRIs) belong to the drug group and its most basic feature is that their effects start to improve symptoms within a short period of about a week. In addition to common side effects such as blurred vision, headache, dizziness, and severe fatigue, long-term painful erection (not associated with sexual activity) may also occur in men when using trazodone HCl []. Although the relevant mechanism is not fully understood, its high affinity for the α1 and α2 receptors that trazodone antagonizes is blamed in the pathophysiology []. This antagonism causes an increase in blood flow due to arteriolar dilation followed by a decrease in venous flow and obstruction of the emissary veins. In addition, α1 blockade may trigger nitric oxide release in nerves innervating arterioles and corpora cavernosa []. This whole process results in an erection. CML is one of the etiologies of priapism and there are multiple relevant case reports in the literature [,]. Herein, it has been accepted that priapism develops due to stasis associated with leukocyte aggregation in the corpora cavernosa and penile dorsal vein due to hyperleukocytosis. Another contributing factor to venous occlusion is the mechanical effect of pressure from the abdominal veins draining the spleen. In addition, infiltration into the sacral nerves or central nervous system by leukemia cells is thought to contribute to the process []. In our case, remission of the disease could not be achieved because the patient did not regularly use tyrosine kinase inhibitor (TKI) drugs that regulate the leukocyte level of the patient. Despite hyperleukocytosis and hyperviscosity in the bloodstream, which are considered to be the causes of priapism in CML, the patient did not develop priapism. However, priapism, which cannot develop on the basis of CML alone, has been predicted to develop due to the synergistic effect of antidepressant agent trazodone HCL in the pathogenesis. Ethics Committee Approval: N / A. Informed Consent: An informed consent was obtained from the patient. Publication: The results of the study were not published in full or in part in form of abstracts. Peer-review: Externally and internally peer-reviewed. Authorship Contributions: Any contribution was not made by any individual not listed as an author. Concept – S.I.G.; Design – S.I.G.; Supervision – S.I.G., E.G.; Resources – D.N.O.; Materials – D.N.O.; Data Collection and/or Processing – S.I.G., D.N.O.; Analysis and/or Interpretation – S.I.G., D.N.O.; Literature Search – D.N.O.; Writing – S.I.G.; Critical Review – S.I.G., E.G. Conflict of Interest: The authors declare that they have no conflict of interest. Financial Disclosure: The authors declare that this study received no financial support.
Saurabh Kumar Negi, Sandip Desai, Gaurav Faujdar, et al.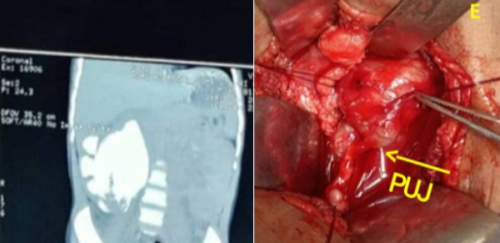 Pediatric kidneys are more susceptible to trauma due to poor protective mechanisms due to immature and more pliable thoracic cage, weak abdominal wall musculature and inadequate perirenal fat. Ureteropelvic junction obstruction (UPJO) is one of the most frequently found renal anomaly, and pelvicalyceal (PCS) rupture is a rare presentation whose diagnosis may be delayed due to lack of hematuria and unnoticed trauma. We present a case of child with PCS rupture in solitary functioning right kidney following trivial trauma. A 6 -year- old male child was referred with complaint of abdominal pain with anuria for 2 days after a small fight with a close friend. Physical examination findings were as follows: abdominal distension with fullness in the right renal fossa, stable vitals, and lack of any urine output on catherization, while he had lower hemoglobin (11.6 mg/dl), and higher serum creatinine (1.8 mg/dl) levels. Whole abdominal ultrasound demonstrated grossly hydronephrotic right kidney with large perinephric fluid collection, absence of left kidney, and empty bladder. Contrast Enhanced Computed Tomography (CECT) of the whole abdomen demonstrated right PCS rupture: grossly dilated right PCS with large perinephric fluid collection extending to the pelvis, absence of the left kidney (Figure 1). Right side USG- guided percutaneous nephrostomy (PCN) was performed under general anesthesia and immediately after 500 ml clear urine was drained. While 24 hrurine output reached up to 1000ml, and serum creatinine levels normalized 3 days later. After 6 weeks, repeat CT urography revealed the diagnosis of right UPJO. Then the patient underwent open Anderson- Hynes dismembered pyeloplasty (Figure 2). Figure 1. A-B: Abdominal CECT during initial presentation just after trauma Figure 2. C-D: Follow- up CT urography 6 weeks after trauma E: Intraoperative picture of ureteropelvic junction Most children with grade IV/V renal injury following blunt trauma can be managed nonoperatively []. Kidneys are affected in 8-10% of the cases exposed to blunt abdominal trauma which is seen twice more commonly in children. Trivial trauma leading to PCS rupture is a rare presentation. This is more common in children with hydronephrotic kidney mostly due to UPJO. High level of suspicion is required as occasionally it manifests minimal symptoms so its diagnosis is delayed. Our patient presented as a case of emergency within 2 days after the traumatic incident due to solitary functioning kidney with anuria. DJ stenting and PCN insertion are appropriate options for these patients in emergency situation. Sometimes these patients may present with hemodynamic instability requiring immediate exploration. Judicious and early use of minimally invasive interventions, instead of persisting with nonoperative management improve functional outcomes [].