Ekrem GUNER

Dear colleagues, I am honored to share with you the second issue of 2022 of the Grand Journal of Urology (Grand J Urol) with the contributions of many respected researchers and authors. Our journal has been abstracted/indexed in J-Gate, Index Copernicus International ICI World of Journals, EuroPub, SciLit, ResearchGate, ScienceGate and Google Scholar international databases. As of these achievements, the Grand Journal of Urology (GJU) has taken its place among the journals indexed by international databases. Grand Journal of Urology (GJU) aims to carry written and visual scientific urology studies to academic platforms and to make significant contributions to the science of urology. In this issue of our journal, there are many valuable articles under the subheadings of Andrology, General Urology, Laparoscopic and Robotic Surgery, Pediatric Urology, Renal Transplantation and Urological Oncology. I hope that these carefully prepared articles will make important contributions to valuable readers, researchers and the urology literature. On this occasion, I would like to express my heartfelt gratitude to our authors who have contributed to our journal with their articles, to our reviewers who have meticulously evaluate the articles. Respectfully yours May 2022 Assoc. Prof. Ekrem GUNER, MD Editor-in-Chief
Ibrahim Guven Kartal, Okan Alkıs, Mehmet Sevim, et al.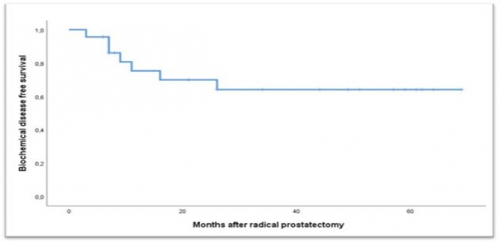 Clinical stage cT3N0M0 prostate cancer is defined within the high-risk prostate cancer group in the European Association of Urology (EAU) and American Urological Association (AUA) guidelines []. External beam radiotherapy (EBRT), radical prostatectomy (RP), brachytherapy, focal treatment methods, androgen deprivation therapy (ADT), or combinations of these schemes constitute high-risk prostate cancer treatment protocols [,]. However, discussions remain for the treatment methods to be applied in high-risk prostate cancer. Clinical stage T3N0M0 prostate cancer can be defined as the most localized group within the definition of high-risk prostate cancer. Therefore, it can be suggested that this group would benefit most from local treatments. RP is increasingly preferred in the treatment of high-risk prostate cancer. Although there are no consistent results in the literature, still some studies have reported serious advantages of RP in cancer-specific survival []. It has been suggested that surgery can be used as a monotherapy, as well as to avoid potential side effects of ADT and EBRT []. In our study we aimed to evaluate the impact of RP and extended pelvic lymph node dissection on the course of the disease in terms of its oncological outcomes and quality of life in the treatment of cT3N0M0 stage cancers with the hypothesis of whether we can be protected from the side effects of systemic treatments.
Bekir Voyvoda, Nuray Voyvoda, Omur Memik, et al.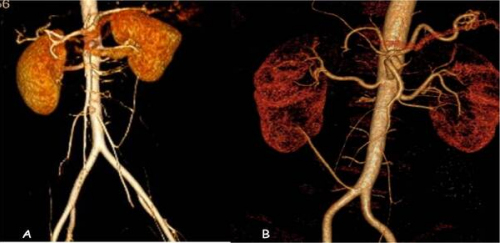 Renal transplantation is the best option for the treatment of end-stage renal disease []. Renal transplantation can be performed from a deceased or a living donor. Since the number of organ donations after brain death is insufficient in our country, the number of renal transplantations from living donors is higher []. Predonation evaluation of the living donor is important both in predicting the recipient"s graft function and the kidney damage that may develop in the donor over the years after nephrectomy []. Systematic evaluation is of importance in the selection of an eligible donor prior to transplantation. Not only kidney functions but also other concomitant organ pathologies which affect the decision-making process are assessed. During the preparation estimated glomerular filtration rate (eGFR), 24-hour urine creatinine clearance (CrCl), 24-hour urine proteinuria, and microalbuminuria are used to determine kidney functions and/ or damage []. Split renal function (SRF) demonstrates the performance distribution of each kidney, and usually the less functional kidney is selected for transplantation. Scintigraphic techniques performed using Tc-99m diethylenetriamine pentaacetic acid (DTPA), dimercaptosuccinic acid (DMSA) or mercapto-acetyltriglycine (MAG-3) is being performed as gold standards for the scintigraphic evaluation of split renal functions []. Computed tomography is currently used as a noninvasive test that has replaced digital subtraction angiography for preoperative evaluation of the vascular structures of the donor candidate []. Morphological evaluation can be made, and also vascular variations can be demonstrated by CT. The fact that volumetric calculations can also be made by CT suggests that CT may replace scintigraphy for the evaluation of the SRF []. The primary aim of this study was to evaluate whether CT can replace scintigraphy for demonstrating split renal function, while the secondary aim was to determine the agreement between different CT volumetric measurement methods so as to demonstrate SRF.
Esen Yildirim Demirdogen, Saban Oguz Demirdogen, Gulsum Yitik Tonkaz, et al.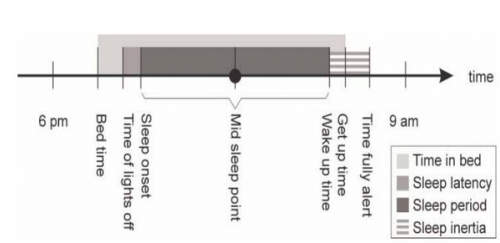 Enuresis nocturna (EN) is defined as the recurrent lack of urinary control during night sleep for at least 2 times a week during 3 months []. EN is classified in two separate categories as simple (monosymptomatic) and complicated (polysymptomatic), and also as primary and secondary. While as lower urinary tract symptoms only enuresis nocturna is seen in monosymptomatic enuresis nocturna (MEN), lower urinary tract symptoms such as urgency, frequency, decreased urinary flow are also seen in polysymptomatic EN. While the child is never dry since birth in primary EN, there is at least 6 months of dry period in secondary EN []. Despite methodological variations, the prevalence of MEN has been reported as 15-20% around 5, 10% around 7, 5% around 10 and less than 1% around 15 years of age []. The etiology of MEN is multifactorial including genetic factors, waking disorder, nocturnal polyuria, increased detrusor activity, low urinary bladder capacity at night and obstructive sleep apnea [-]. Human body is regulated by an endogenous clock that controls daily rhythms, sleep/wake cycles, behavior, and physiological functions (melatonin excretion, cortisol levels, cell replication, etc.). This biological clock is repeated at every 24 hours and is therefore defined as the "circadian" rhythm that encompasses approximately one day []. The suprachiasmatic nucleus in the hypothalamus serves as the master pacemaker that sets the timing of circadian rhythm by regulating neuronal activity, body temperature and hormonal signals []. Light is the strongest stimulus in the regulation of circadian rhythm []. The vast majority of etiological factors of MEN such as the level of being stimulated during sleep, urine production and urinary bladder storage are closely related to the circadian rhythm []. Chronotype, an external marker of circadian rhythm, is defined as the time when the best mental and bodily performances are exhibited []. Morning, evening and intermediate chronotypes have been defined. Morning chronotypes (larks) wake up early and feel more active during the first part of the day and exhibit a higher physical and cognitive performance during these hours. Evening chronotypes (owls) go to bed late and have difficulty in waking up in the morning and exhibit a better performance in the afternoon and evening. The most common intermediate chronotypes show the features of both types [-]. Evening chronotypes are more prone to medical problems like diabetes mellitus, hypertension, obesity, and asthma []. Evening chronotypes experience psychiatric problems such as anxiety, depression and substance abuse more often, and severely compared to morning chronotypes [,]. MEN, which is among the most common problems in childhood, is usually self-limited and spontaneously resolves without sequelae. However, some individuals may have significant emotional and social problems like poor sense of self, poor self-esteem, social restriction, and family conflict. Therefore, it is of great importance to determine the etiologic factors of MEN and to apply behavioral, psychotherapeutic, and pharmacologic treatments based on individual assessment. As the etiology of MEN is enlightened, more effective treatments may become available. In the present study, we aimed to evaluate the relationship between MEN and chronotypes in children.
Taner Kargi, Kamil Gokhan Seker, Abdullah Hizir Yavuzsan, et al.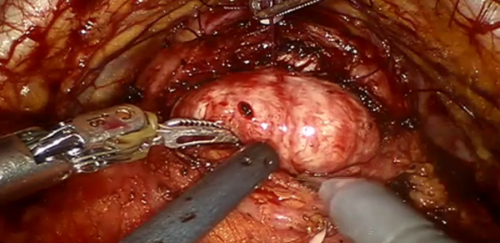 Radical prostatectomy (RP) is the gold standard treatment option in cases with organ limited prostate cancer (PCa) with a life expectancy of more than 10 years. Primary goal of the operation is complete removal of the tumor. However, it is very important that the patient maintains its postoperative erectile function and urinary continence []. Although the oncological results are positive, there is an increasing interest in minimally invasive methods due to the higher perioperative complication rates of open surgery and the negative consequences of postoperative functional outcomes such as erectile dysfunction and incontinence []. However, there are randomized controlled studies showing that the functional results are similar []. Laparoscopic radical prostatectomy has not been widely used due to its technical difficulties and long learning curve []. It was possible to overcome the challenges of the complex laparoscopic method when Da Vinci robotic system was introduced in that it enhanced movement ability of the operator"s wrist, eliminated hand tremors of the surgeon, enabled more sensitive work in a three-dimensional medium with greater possibility of successful surgical dissection and anastomosis [,]. Large prostates cause difficulties in treatment. Large prostates restrict mobilization in the pelvis and may distort the visual appearance []. However, the stereoscopic visualization, magnification, and improved ergonomics of robot-assisted radical prostatectomy (RARP) can reduce the challenges posed by enlarged prostates with hyperplasic median lobes. However, RARP was found to be associated with more bleeding and longer operative times in some studies performed in patients with a large prostate and especially a voluminous median lobe, although functional and oncological results were not significantly different [-]. The aim of this cross-sectional study is to evaluate the effect of the enlarged median lobe on the surgical, oncological and functional outcomes of RARP in patients with enlarged median lobe and PCa in our patient series.
Ugur Aydin, Ender Cem Bulut, Metin Onaran, et al.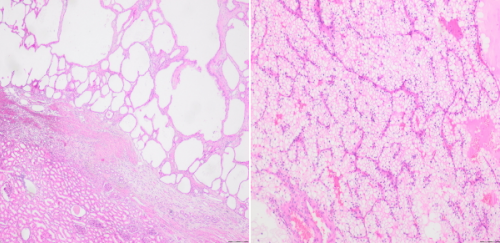 Cystic nephroma, first described by Edmunds in 1892, is a non-hereditary, multicystic usually unilateral benign lesion of the kidney that does not contain solid components. Histologically, it contains cysts with flat or cuboidal epithelium and fibrous or stromal septa. It is generally seen in the first 2 years of life and after the third decade. The fact that the kidney has great similarities with other cystic masses, especially cystic renal cell carcinoma, causes diagnostic difficulties, and uncertainty in determining the method of treatment. Histopathological examination is the only way to confirm the diagnosis of multilocular cystic lesion detected by imaging studies []. Two cystic masses located side by side in the lower pole of the left kidney of our patient were successfully treated with the "open partial nephrectomy" method. In this study, we presented our case of two cystic lesions in the same kidney, one of which was reported as renal cell carcinoma and the other as cystic nephroma and reviewed the relevant literature.
Huseyin Bicer, Ahmet Gur, Cemil Bayraktar, et al.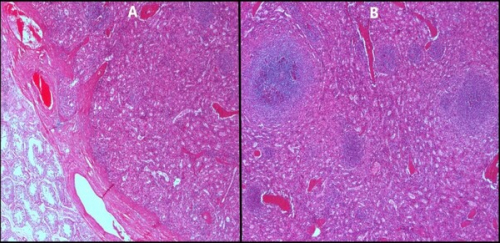 Splenogonadal fusion (SGF) is one of the very rarely seen fusion anomalies []. This anomaly occurs during the splenogonadal convergence that develops between the 5th-8th weeks of the embryonic life []. SGF was first described by Bostroem et al. in 1883 []. Its continuous and discontinuous types were reported in 1956 []. More than 150 cases of SGF have been reported to date, and only 4 cases have been associated with malignancy. For this reason, they are generally considered as benign lesions [,]. In continuous SGF, the spleen tissue is continuous on the spermatic cord. Although the discontinuous type is less common, spleen tissue is not observed on the spermatic cord. In these cases, a mass of ectopic spleen or accessory spleen tissue is usually detected on the testis []. SGF is usually diagnosed in childhood. However, it is rarely detected until adulthood, and it can be confused with malignant testicular tumors and cause unnecessary orchiectomies [,]. Indeed, approximately 35-40% of these patients can only be detected after orchiectomy []. In this case report, we aimed to present an adult case who underwent radical orchiectomy due to the suspicion of testicular cancer which was revealed to be discontinious SGF later on.
Muge Bilge, Isil Kibar Akilli, Furkan Isgoren, et al.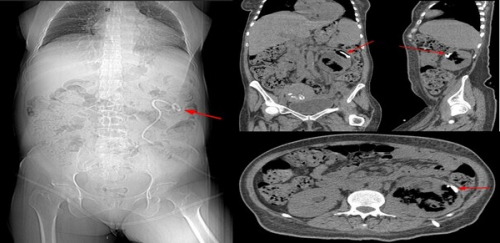 One of the major severe acute consequences of diabetes mellitus (DM) is diabetic ketoacidosis (DKA). The outbreak of the newly emergent severe acute respiratory syndrome coronavirus 2 (SARS-CoV-2) disease has been a major cause of death for the last two years. The COVID-19 pandemic has been disruptive for many patients worsening their dietary and exercise habits. As is known, poor glycemic control causes various fatal clinical complications such as infectious diseases. Emphysematous pyelonephritis (EPN) is a rare, but potentially fatal necrotic kidney infection that usually leads to septic shock and its frequency is higher in patients who are immunocompromised, especially those with DM (87-97%) []. Mortality rates have been estimated to be as high as 80% in cases of misdiagnosis or delayed treatment. Most common causative organisms are Enterobacteriaceae; especially Escherichia coli and Klebsiella pneumoniae []. On the other hand, another infectious agent Mycobacterium tuberculosis that causes the disease called tuberculosis (TB), is still an important public health issue in developing countries. Urogenital TB comprises 27% of extrapulmonary cases of TB. Renal involvement in TB is manifested as part of a disseminated infection or a localized genitourinary disease []. A very rare clinical scenario is EPN concurrent with iliopsoas abscess (IPA) []. Herein, we present a case of DKA in a patient having concurrent EPN, IPA and COVID-19 pneumonia along with a critical review of the previous literature to contextualize our observations. There are two salient features in this case which make the problem unique: i) the condition manifested itself in the context of multiple fatal conditions, ii) the condition highlighted in this case coexisted with COVID-19 pandemic, DKA, EPN, IPA and renal TB which are all successfully managed with good clinical outcomes.
Onur Demirbas, Murat Keske, Mert Ali Karadag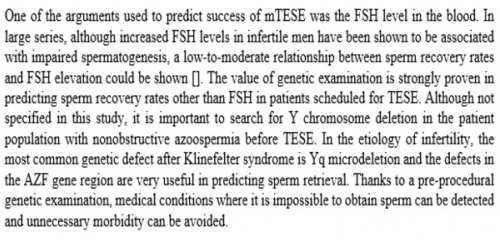 Dear Editor, We have read with great interest the study entitled "Factors Affecting TESE Success in Infertility Treatment: Preliminary Results of Single-Center Experience" published in the first issue of your journal []. Both techniques are very common in daily urology practice. Epigenetic changes already create many problems that we will insidiously pass to the next generations. One of the most obvious consequences of epigenetic disorders affecting the male gender is the deterioration in sperm parameters. Decrease in sperm parameters and fertility rates have necessitated acceptance of lower sperm parameters as criteria of fertility compared to those defined by WHO []. The decreased sperm parameters and even the absence of sperm in the ejaculate (nonobstructive [NOA] or obstructive azoospermia) have led to the birth of new sperm retrieval methods. Microdissection testicular sperm extraction (micro-TESE, mTESE) which is a surgical sperm retrieval method under local anesthesia with the aid of a magnifying glass was first defined by Schlegel in 1999 []. The success rate of mTESE even in experienced hands is around 50%. The selection criteria of study population in published reports also directly affect the success rates. In particular, success rate increases in studies in which patients with chromosomal abnormalities are excluded []. Nevertheless, such a high success rate of 100% in this study may not be explained by only excluding patients with Klinefelter and/or Sertoli cellonly syndrome from the study. As stated, the creation of a large population in the planning phase of the study will result in rates compatible with the literature. Also in order to expound the study design more clearly, the indications that were taken into consideration when TESE or mTESE was preferred between the two groups, and previously applied assisted reproductive technologies should be displayed in detail. One of the arguments used to predict success of mTESE was the FSH level in the blood. In large series, although increased FSH levels in infertile men have been shown to be associated with impaired spermatogenesis, a low-to-moderate relationship between sperm recovery rates and FSH elevation could be shown []. The value of genetic examination is strongly proven in predicting sperm recovery rates other than FSH in patients scheduled for TESE. Although not specified in this study, it is important to search for Y chromosome deletion in the patient population with nonobstructive azoospermia before TESE. In the etiology of infertility, the most common genetic defect after Klinefelter syndrome is Yq microdeletion and the defects in the AZF gene region are very useful in predicting sperm retrieval. Thanks to a pre-procedural genetic examination, medical conditions where it is impossible to obtain sperm can be detected and unnecessary morbidity can be avoided. In NOA cases, especially in patients with genetic disorders, mTESE can effectively find spermatozoa and minimize the risk of complications. Nevertheless, more research is required to better understand the complex pathophysiology underlying NOA and to find more accurate predictors of sperm recovery rates. Sincerely yours,